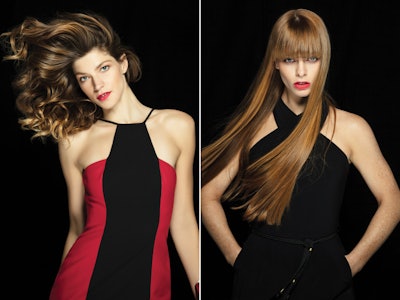 Inspiration: The current climate for change and the demand for women's empowerment served as the inspiration behind FHI Brands' Women's #movement collection. The team set out to translate this powerful influence visually, which is not an easy feat. There was a purposeful focus on the bold crimson lip—a symbolic expression of strength. As red also happens to be the thematic color of FHI tools, the choice was all the more meaningful. Never to be outshined, the medium of hair itself was dually inspiring. "Hair offers endless possibilities for wearable art, fashionable change, and an expression of the self," explains artistic director Sean James.
RELATED: The Affinage Colour Rebels Present Rebelution
"I imagined our images being flipped through and wanted them to look as though they were moving," says Sean James.
[Images: Hair/art direction by Sean James; Photography by Mike Ruiz]