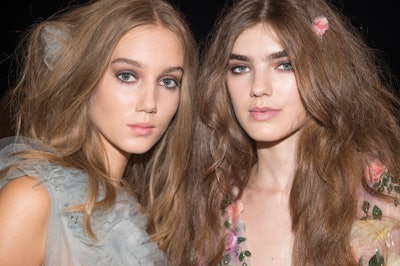 If New York City is considered a concrete jungle, you wouldn't know it based upon hairstylists turning the city's Fashion Week into a veritable greenhouse. At Marchesa, Moroccanoil global ambassador Antonio Corral Calero buried gossamer blossoms in a frothy haze of hair, noting, "The idea is that the girls are walking through the woods and flowers are getting caught in their hair."
RELATED: How to Get the Look -NYFW Trends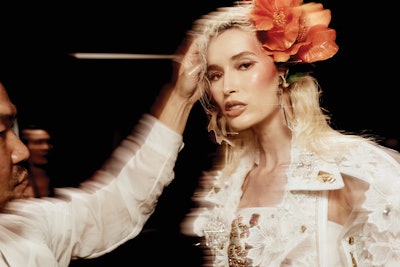 Less of an afterthought, the gargantuan hibiscus flowers that dwarfed models' heads at The Blonds received the same treatment and care as the drenched locks they perched upon: Oribe hair lead Kien Hoang carefully misted their petals with Oribe Côte d'Azur Luminous Hair & Body Oil to reflect the accumulated dew from an ocean's spray.
RELATED: ​Oribe Creates Otherworldly Styles at The Blonds NYFW 2018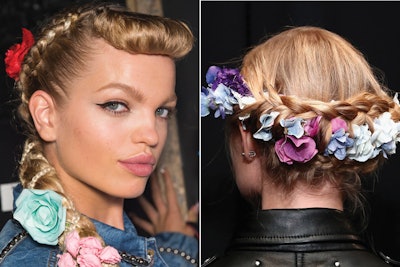 At Philipp Plein and Naeem Khan, braids acted as trellises for flowers to scale—the former a long and winding rope dappled with thorny roses, the latter a plaited planter where buds pushed through at every twist.
Once the spring shows crossed the pond to London, Milan and Paris, stylists' green thumbs grew greater with outsized takes on the trend. Whether a sky-high rose crown at Dolce & Gabbana or a hooded cocoon of daisies, posies, hydrangeas, dahlias and more at Moschino, the seeds of blossoming beauty have been firmly planted for you to cultivate your own floral hair creations this season.
[Images: The Blonds: Matte Productions; Naeem Khan: Courtesy of Tresemme; Marchesa: Getty Images]