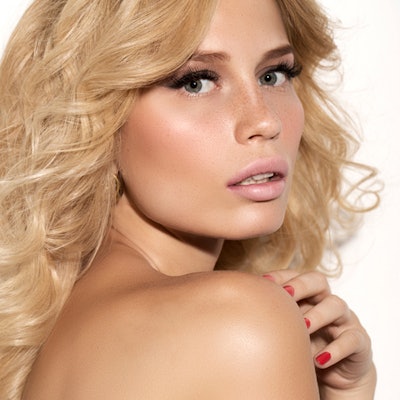 Volume lashes changed the lash industry's course for the better. Have you turned up the Volume with your services? 
In the beginning of the lashing revolution, artists carefully adhered one extension to a singular lash, and women marveled at the eye-defining results. That was then; this is now, where as many as 15 lashes via feather-light fans can transform an individual lash into a fluffy peacock of flutter. Not surprisingly, women flock to lash shops to get this eye-luring Volume lash service. "Clients of all types are drawn to Volume because the service adds so much more than Classic lashing. Classic can lengthen and darken, but with Volume you can add so much more bang, bam, boom and fluff!" asserts Chez G George, Minkys VP/director of education and training, in Pleasant Grove, Utah. Not to mention, the service allows you to flex your creative muscles as a true bona fide artist. "Volume's advanced technique makes a lash artist feel like they're able to dive into the artistry portion of who they are and who they want to become!" George thrills. Of course, Volume isn't only about the drama; as certified Xtreme Lashes trainer AnneMarie Lorenzini in The Woodlands, Texas, notes, Volume allows you to customize just how far you want to push lash theatrics. "Some of my clients like a full look that's soft and feathery while others are drawn to a 'black-out' Volume set," she says. The beauty of it all: You can provide both with Volume.
If you're on the fence about adding Volume lashes to your repertoire, need a confidence boost in your current Volume lashing or want some insider intel on the service, read on. After all, "having Volume expertise in your 'lash tool belt' allows you to be able to serve almost any lash client who comes your way," says Washington, D.C.-based Joy A. Johnson, Lash beLONG educator.
RELATED: Tonje Fjeldberg Elshaug Named LASHoff Artist of the Year
Volume's Seismic Shift
It may be hard to remember the time before Volume lashes, but it wasn't that long ago. For Hilaree Brand, president of My Brand Lashes in Clinton, Utah, the past five years of Volume lash domination not only changed her whole outlook as a lash pro, but also the industry—a development she didn't see coming. "Personally, I felt like there wasn't anywhere you could go once you mastered Classic lashes. Boy, was I wrong! Volume lashes brought me to my knees!" she exclaims. For lash artists, this monumental shift brings with it more challenges—a veritable re-thinking of lashes. "Volume lashes really forced lash artists to step outside their comfort zone. Not to mention, this technique changed how we look at lashes," says Brand, citing a renewed exploration of healthy extensions options, a refined knowledge of natural lashes, a redefinition of cleaning lashes versus priming lashes and a revisiting of how adhesive works as significant amendments "all born out of Volume lashes."
But What is Volume?
Volume lashing is a service that, not surprisingly, is all about creating thick, voluminous lashes. Rather than the Classic approach of one extension per natural lash, Volume uses super- lightweight lash "fans"—typically comprised of three, four, five or even more lashes (known as 3D, 4D, 5D, etcetera)—that weigh considerably less (thanks to smaller diameters, measured in millimeters) than the client's own natural lashes and, therefore, can be adhered to one natural lash. "Volume lashing has changed the game in eyelash extensions," Diane Lytle, owner of TheLashChick in Wasillia, Alaska, echoes. "During the past three years, we've gone from .07mm to .10mm Volume lashes to even lighter .03mm to .05mm, and that now allows lash artists to create even thicker fans, such as 8D to 15D, known as Mega Volume. We're creating the possible out of the impossible: thicker yet lighter lashes that can be worn by [many] without causing damage to the natural lashes."
Options: Volume's Got Plenty
Though Volume brings with it challenges, it also grants more options—and clients love options. Women with fine or sparse natural lashes who weren't candidates for heavier Classic extensions can now experience a set of fluffy, full Volume lashes, thanks to the extensions' smaller diameters and lighter weights. This opens up lash extension services to a whole new pool of consumers, but it also puts natural lash integrity in the spotlight. "Volume lashes are a game-changer because they allow lash artists the ability to add many more lashes without compromising the integrity of the clients' own lashes," says Lynn La Palermo, master lash artist and instructor at Occhi' Lash & Brow Institute in Oakbrook Terrace, Illinois. In fact, even clients with gaps in their lash line can indulge in Volume's beauty. "Volume fans fill in the gaps and create a fullness to the natural lash line that was previously unattainable," says Lytle.
RELATED: The Occhi' Institute for Lash & Brow Training Expands
Artists can also furnish extremely customized looks with Volume lashes; the days of one-size-fits-all lashes are over. "Volume lash techniques opened the door to artistic expression and even technical proficiency for the lash artist. Now, lash artists can develop their own style and design, which can be more appealing to a wider audience of clients," says Megan Bradley, NEESA president and owner of Wink Lash Studio in Newport Beach, California. Naturally, an expanded menu of services only serves to increase artists' earnings—especially thanks to Volume lashes' higher service price (around 40-to-50 percent higher than Classic on average). "In general, Volume lashes should be priced about double what a Classic lash service costs in your area because you're essentially doing double the work," says Allison Ross, Lash beLONG educator in South Jordan, Utah. And options, again, play a big part in boosting your bottom line. "Adding Volume ... provides multiple price points for a client to choose from. Although
she'll almost always choose Volume, the client feels like she has options," says Trina Smith, NovaLash artist and owner of Beyond Beautiful Salon in Stevens Point, Wisconsin.
Evolution Requires Education
Of course, options also exist when it comes to Volume education, and selecting high-quality course work takes sleuthing. For newbie lash artists a blank slate affords you the ability to dive into Volume lashes and flourish alongside this growth category. Find artists you admire, discover what brand(s) they use or who they studied under, and then seek out that same education. George stresses that in-person training rather than online tutorials is key when you're new to Volume lashing, and that once you complete your course, the onus is on you to practice every single day, whether on a mannequin or model. "Hands-on education is what is needed with this particular skill; trying to master Volume lashing via YouTube or Instagram is not the answer," George warns. "Do your research and find what company works for you. Every company has something to offer. Rest assured you'll take away information from every workshop you attend."
Also realize that different brands and instructors teach different approaches to Volume, and several techniques exist to make the perfect Volume fan. The challenge: "Finding the one that suits you may take a while. Don't give up," says Ross.
Because Volume lash techniques and products constantly evolve—so much so that even master lashers (who were once Volume newbies, too) need to study up to keep their head in the game—you'll constantly be learning. The skill and artistry involved also ensure it's not a service that can be mastered overnight; in fact, "Volume lashes go further than technique alone," says Bradley. "Educating yourself on different eye and face shapes as well as skin tone will separate you from your competition. Volume lashes are not one-size-fits-all; you need the educated confidence to guide individual clients to what will best suit them." Brand notes that to stay on top of the ever-evolving Volume lash segment of the industry (think: trends, product and, yes, revised techniques), artists must pursue ongoing education. "With Volume lashes, more than any other service, a lash artist should commit to a refresher course at least once a year," says La Palermo. "Lash artists working on their own get caught up in bad habits and they don't realize them. Spending a day with someone who will assess their technique and tweak their work will make all the difference in the world."
Patience, Practice and Self-Forgiveness
Lash veterans new to Volume may find that their biggest obstacle lies in their own mind. Retraining yourself to think differently about lashes, and understanding that the technique may take practice and patience to pick up, is imperative to Volume lash success. According to Brand, Volume lash students—newbies and veterans—tend to believe that the technique isn't for them if they can't master it in a few sittings. "This service requires patience, practice and self-forgiveness. Yes, self-forgiveness!" she stresses. "If we continue to say cruel things to ourselves while we're learning a new skill, we learn slower—or not at all."
RELATED: Lash Artists Need Top-Quality Training to Stay Ahead of the Curve
A steady course of practice will lead to what every Volume lasher desires: muscle memory. "Using your nondominant hand isn't something you do throughout a normal day—and it's required in Volume lashing. Muscle memory takes time to develop and that requires ample amounts of practice, so go easy on yourself and give yourself some credit," says George. Agrees Jess Phillips, CEO of Lash Stuff in Ogden, Utah, "You won't learn Volume lashing in one day or 10, but there will be that moment when it just clicks and your hand does the work automatically. Just know that you're training your hands the correct tension to put on the tweezers, where the 'sweet spot' is to pick up that beautiful fan and how to place that fan on the natural lash." She suggests that, while you're watching TV at home or waiting between clients at the salon, you practice making Volume fans by placing them on the back of your hand to train your brain.
Even those who have mastered Volume technique need to continue challenging themselves with the artistry aspect of the service. Brand suggests venturing into competitions so that your Volume lash prowess doesn't become stale. "Just because you're a veteran doesn't mean you can't continue learning. Training for competition shows you your weaknesses and strengths in a way that everyday clients can't show you," she explains.
Overcoming Obstacles
What would an industry disrupter like Volume lashes be without some obstacles? As our pros noted, Volume technique can be hard to nail down. The No. 1 issue: creating the requisite fans. "Many artists get impatient and struggle making the fan," says Smith, adding, "Be patient and remember you're in control of the artistic results."
Agrees La Palermo, "Volume lashes take practice—a lot of practice—and they take more time to execute. Creating repeated beautiful fans in various 2D, 3D, 4D, etcetera is challenging." She notes that lash artists often deal with their fans closing, and if they become too frustrated, they'll revert back to what they know: Classic single attachment with stacking. Overcome the urge to quit by— yes—being patient. "It takes repetition and being able to recognize the mistakes being made and constantly working toward correcting those mistakes," says Riann Decker, Xtreme Lashes certified trainer in Denver. Even if you know Classic lashes, you need to change your mindset for Volume; "it's like you're starting all over," she says.
Know, too, that just because you can create Volume lashes doesn't mean every client's natural lashes can support a slew of fans. That leads to a huge Volume obstacle: knowing when to say "no" to a client, and using your expertise to guide them to the Volume lash look that keeps their natural lash integrity intact. "Understanding proper weights in comparison to the natural lashes is a must before even attempting to perform Volume lashing; you don't want to place too heavy of a fan on the natural lash as this can cause follicular damage to the lash," says Lytle. "Mastering Volume lashing and understanding the benefits of this technique will give you the foundation of establishing a solid client base and a positive reputation."
Making Volume Profitable
With Volume lashes, you'll be investing in more education, product and time per service—so how do you see a profit? Think of it as all evening out, says George. "You most definitely use more lashes per application—obviously— anywhere from two to nine per lash, and that adds up quickly. But because the retention rate increases with Volume, clients can easily go four weeks between fills instead of Classic's two to three weeks," she reasons.
Plus, Volume follows the Lay's Potato Chips rule: You can't do it just once. "Volume lashes create profit because the clients become addicted and continue to come back," reasons Smith. Also, she adds, Volume lashes are marketed as a higher-end service, allowing you to bump up your service charge and increase your bottom line. If you're doing everything correctly—becoming properly trained and certified and mastering the technique—Lytle says you can increase your profit by as much as 100 percent. "If you're transitioning clientele from Classic to Volume lashes, you might offer a promo price or a free upgrade as a 'try before you buy' application, and once clients experience the upgrade to Volume lashes, they most likely won't go back to Classic," she shares.
You can certainly cut into your profits by performing a few Volume lash infractions, however, such as removing too many grown-out lashes come fill time. "It's like taking two steps forward and one step back. Only remove lashes that are disrupting the design line, meaning: Remove the one lash that's waving in the wind above all the rest," Brand says. Another profit-stealing no-no: If you take longer than an hour to perform a fill, you'll begin losing money. "It's important to continue to practice so you can be efficient," Smith says.
Fumbling your fans could also cost you because you end up going through more lashes than necessary, according to La Palermo. The way to fix this: Practice! 
In the end, expanding your services by adding Volume pays off—in more ways than one. Volume nets you more money, challenges your creativity, keeps you current, and provides options for a wider group of potential and regular clients to flaunt lush, natural-looking lashes—and they're thrilled. "The No. 1 thing I hear from lash artists [about Volume] is that their clients are finally satisfied with their lashes!" exclaims Bradley. "Having satisfied clients is one of the most rewarding feelings you can get as an artist. Although Volume may be a more difficult technique, the payoff is completely worth it!"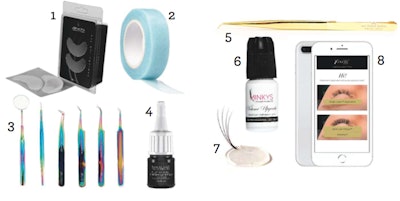 Start to finish, you'll want these tools to aid you in the perfect Volume set or fill.
1 - Lash beLONG Moisturizing Eye Gel Pads: Cool de-puff and ensure comfort while keeping lower lashes clear of Volume lashing. 800.621.9585
2 - TheLashChick Pro Sensitive Tape: Gives a gentle assist so you can get as close as possible to the natural lash line when lashing; can also be used on the bottom lash line for sensitive clients.
3 - JB Lashes Pro Volume Tweezer Kit: Feather-light 12mm-length handles and minimal tension reduce hand fatigue while the holographic finish looks oh-so- chic.
4 - NovaLash Platinum Bond High Speed: Exhibits a quick dry time and low fumes; formulated for use with the brand's American Volume lashes. 
5 - My Brand Lashes Valerie Long Hook Isolation Tweezers: A slender shape and lightweight feel helps you isolate with ease. 
6 - Minkys Volume Upgrade Black Lash Adhesive: Boasts the perfect viscosity for up to 6D without weighing down fluffiness. 
7 - Borboleta Beauty Borby Bubble: Assists fan building for greater efficiency. 
8 - Xtreme Lashes Lash Calculator: Gauges ideal lengths, thickness and number of lash extensions for optimal natural lash health. (Available to enrollees
of the Volumation Advanced Training Program.) –by Karie L. Frost