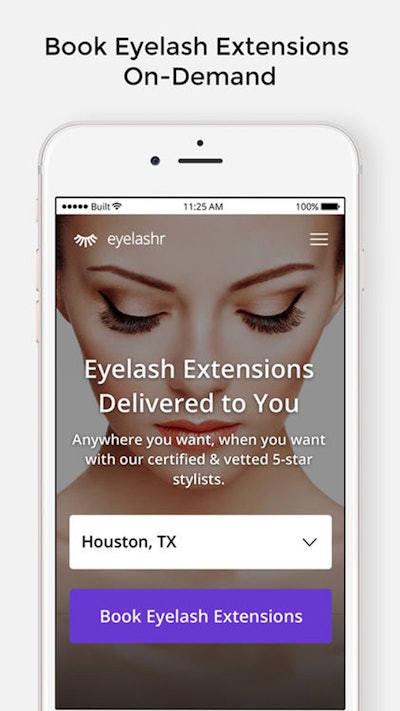 Now lash artists can add "there's an app for that" to their profession. The Eyelashr app allows consumers to book on demand vetted lash extensionists in the Houston area. (The company plans to expand to other major cities throughout the U.S.) Whether they're at home, the office or a hotel, consumers can have a lash pro sent to them to create one of three "levels of volume"—Natural, Glamorous or Ultra Dramatic—for either a full set or ll. When selecting their pro, consumers scroll through a database of talent that features lash artists' bios, reviews and images of their work. Of course, because lash artistry demands excellent technique and superior customer service, Eyelashr conducts thorough background checks on all featured stylists, ensuring they're fully trained, licensed and insured for their state. And lest you think that this is the
creation of some Silicon Valley techie with no lash experience, think again! Maher Daoudi, Eyelashr cofounder and CEO, got his lash chops as the co-owner, cofounder and CEO of Xtreme Lashes by Jo Mousselli (though his Houston-based tech company, Skillvo, certainly helps on the app development side)!
Want to join Eyelashr as a concierge mobile lash stylist? Eyelashr claims these benefits:
Earn two-to- four times the industry standard.

Choose your hours.

Marketing and advertising support through a SEO-optimized webpage and company- invested local outreach.

Articial Intelligence calendar to block off bookings, calculate travel and optimize your appointment offerings.

Safety on the job with GPS check-in and check-out features.

A staffed support team that takes care of client service.
Visit eyelashr.com/eyelash-extension-jobs for more details.