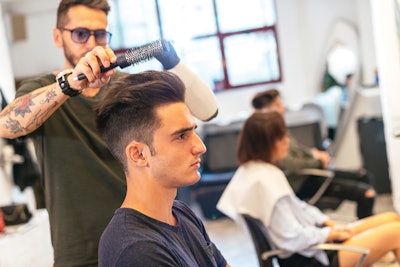 Learn how to win teen loyalty now—and secure your business's future. 
How can I be teen-friendly without appearing to try too hard? It's a question of the ages. Considering male clients are known for their loyalty, striking that perfect balance at your salon can mean steady business for generations to come. So, just how to target the lads? Amanda Fator, a Sexy Hair platform artist, puts it bluntly: "Instagram is where we as professionals can be most relevant to teenagers," she explains. "It's where you can get your work out to younger customers who otherwise may not see it. Pictures speak a million words." Christina Goree, Wahl's education and artistic team member, adds that Instagram is "fast-paced, in real time, and easily accessible; it's where teens seek out the latest styles and trends, so it's the best location to showcase your work." To find out how to best use this and other marketing tools to get young men in your door, MAN talked to industry experts and salon pros. Here's what they had to say about getting the kids to line up.
No matter your salon's or barbershop's main demographic, Instagram provides a valuable portal to youths. And marketing experts are quick to point out that young people are more likely to buy from brands that engage with them on social media—and provide valuable content. "Loyalty these days is earned by staying engaged with your teen audience and encouraging them to engage with you on social media," says Danielle Rauto, a Eufora stylist based in Hollywood, Florida. That means keeping images relevant and targeted.
To that end, Stacia Kelley, artistic team member and marketing coach for Sport Clips' Kansas/Missouri market, takes an "edgy approach" in terms of the salon's pictures and videos. "Think lots of color, lots of flair and lots of recent trends—such as hard parts and flashy pompadours à la David Beckham—to show that we can deliver on young styles, and that we're not limited to our 30- to 50-year-old primary audience," she says. To keep their posts catchy, they don't muck up the images with a lot of text. "Young people want fast information. For guidance, spend some time looking at young people's Instagram [accounts]—find out what the kids like to see, what voices and memes they respond to, and what the 'cool' barbers in your area are posting," she says.
RELATED: Holiday Gift Guide - For the Guys
Another way to gain teens' loyalty is to consider contests and giveaways that relate to causes and events they care about. Consider setting up unique Insta hashtags for your young customers to post, say, their summer vacation looks. "Offer a reward for posting a photo or for referring a friend," says Rauto, who ran a successful "Re-Share Dapper Prom Inspo" campaign last spring. She says, "Instagram was created to capture personal experiences in an aesthetically pleasing way, which allows brands to access user-generated content from the customers who have first-hand experience with your products and services." Translation: Incentivizing your clients to post their new 'dos on Instagram, and then reposting them, can turn your clients into brand ambassadors. "And the more happy brand ambassadors [you have], the more credibility your business will have," Rauto assures.
Younghee Kim, owner of Younghee Kim Salon in New York City, suggests collecting Insta-testimonials from a range of satisfied young clients. "Show off young men with different hair types and styles and various lifestyles to visually reinforce that your salon can serve anyone," he says. "But always strive for simplicity, modernity and authenticity, which are characteristics young men are drawn to. All our branding, ads, images, logos and product designs reflect these traits."
Old-school Instagram shots are one thing, but according to Fator, Snapchat, Instagram and other less-filtered, fun-oriented video platforms can make for excellent ways to engage your soon-to-be customers. "Behind-the-scenes video will give them a sense of your personality before they sit in your chair," she says. "Teenagers want to have fun, so show off your less professional side."
Other popular platforms for the younger set are YouTube and blogs; they use these to research, discuss and review products and services before buying. "If you can create videos or blog posts that feature how-to styling tips and product tips—even how to un-box products—that will help capture the attention of a teen audience and introduce them to your brand," says Rauto. For instance, Kim will post Instagram Stories about clients using their products to treat issues, like irritated scalps, that show how to make their products work better.
RELATED: Four Age Appropriate Men's Hairstyles from Paul Mitchell
Don't, however, neglect the now "old school" platforms. Wahl's Goree reminds that a good Facebook page is integral to providing business information, as many turn to Facebook before looking for a website. "More than Instagram, it allows you to post salon hours, services offered, special offers and staff bios—and to address serious inquires about your offerings," says Goree. Further, it's important to market to teens' fathers, notes Kelley—most of whom are more familiar with Facebook than other social media sites. "Wherever most guys start going is where they'll keep going," she says, "as long as you do a great job."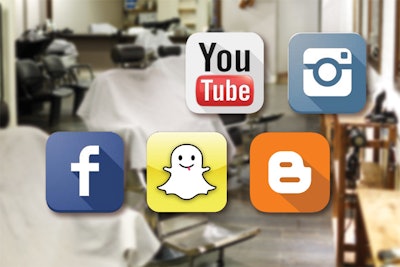 Know Your Influencers
Good style is paramount to teens. "In my experience, they tend to spend a great deal of money on services and style," says Goree, who reminds that posts are a "huge part" of their lives. So, you want your social media posts to convey only the most desirable looks and trends. As Rauto explains, the most effective way to market to young people is to advertise a lifestyle, rather than a product: "You don't need to have access to celebrities or their endorsements to market to teens; just get to know your local influencers." She's talking about the young people in your area who represent the type of customer you want to have—popular local musicians, star athletes, models, photographers or perhaps the president of a youth-run charity. "Team up with style influencers who have a social following, offer product or services and collaborate to create quality lifestyle imagery that will grow your social following," she says. Kim regularly hosts "editor days," wherein local editors and influencers are invited in for a complimentary experience at the salon.
Aside from social media, just knowing who teens' influencers are can earn you street cred. "Every now and then, I'll flip through [teen magazines] to learn about at least one new influencer in youths' sphere," says Fator. Look for cross- promotion opportunities with other businesses in your area; think gyms, cafés and shops targeting the teen set. "Doing a little research can make you seem like you're in the know—without looking like you're trying too hard," she says. 
Securing Youth Loyalty
Now that you've got the young men rapt, Dana Caschetta, a Eufora HERO for Men national trainer, says loyalty programs are a great way to entice them to come back. "Offer a discount after a certain dollar amount spent or create a membership app so guys can book and get reminders about monthly services without the hassle of having to call and make an appointment," she says. "Consider giving unlimited monthly haircuts, shape-ups and shaves for a set fee and, if they bring in a friend, offering a complimentary shape-up a week or two after their haircut."
Kelley emphasizes that all youth-oriented loyalty programs and booking capabilities should be as mobile-friendly as possible. "Their devices are all these kids have in their hands anymore," she says, noting that it's important, however, to put a human face on your business as well. "Promote your loyalty programs and services at community events, such as football games and high school blood drives. Young people respond to community presence and engagement with the world."
Ultimately, the best way to secure the loyalty of fickle teenagers is to stay up-to-date and proficient in the latest style techniques. "Sometimes they know about hair trends before we do," says Fator, "so to keep them as clients, it's important to stay one step ahead." As teenagers, they are always fighting to be treated as adults, so listen to them carefully; allow them to have a voice. The more that you can prove that you recognize their evolving needs, the more they will stick with you as they grow into adults. Fator emphasizes, "If they understand that the services and amenities you provide are unique to you, they'll be more likely to stay with you—and even return—once they come home from college!" 
[Images: Top image courtesy of Drazen Lovric, bottom image courtesy of iStock]