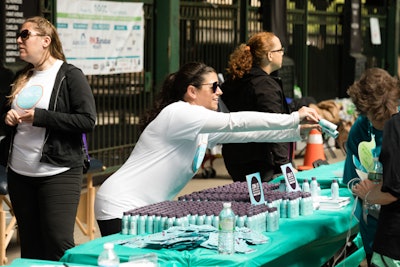 Pureology is using its clout in the beauty world for a noble endeavor.
It's for a topic that sadly impacts, directly or indirectly, a vast majority of individuals: cancer. Ovarian cancer, specifically, hits particularly close to home with women, ranking as the fifth cause of female cancer deaths. According to the American Cancer Society, approximately 22,440 women will receive a new diagnosis of ovarian cancer and around 14,080 women will die from it. If these statistics shock you, you're not alone. It seems the rest of the nation (and the world, for that matter) are taking notice of the magnitude of ovarian cancer, including world renowned hair care giant Pureology.
The beauty brand has devoted itself to the cause by partnering with the National Ovarian Cancer Coalition (NOCC). In May, Pureology participated in the first Run/Walk to Break the Silence on Ovarian Cancer of the season, held at Liberty State Park in New Jersey. The event served as the kick-off to Pureology's ongoing partnership with NOCC for the year. "In addition to a monetary donation of $100,000, Pureology is devoted to supporting the NOCC through ongoing digital and social activations, sponsorship of NOCC Run/Walks to Break the Silence on Ovarian Cancer, and partnerships with local Pureology salons and the Pure Artist network at select NOCC events in 2017," said Leslie Marino, general manager of Pureology.
Next month, in honor of September's Cancer Awareness initiative, the brand will launch its latest campaign: its "Colour of Strength" set. Featuring Pureology's Strength Cure Shampoo, Conditioner and Split End Salve, the packaging will highlight the NOCC's #ThinkTeal campaign along with the signs and symptoms of ovarian cancer to raise awareness of the disease. Notes Marino, "Pureology prides itself on aligning with charitable organizations holding the same strong dedication to the people they serve."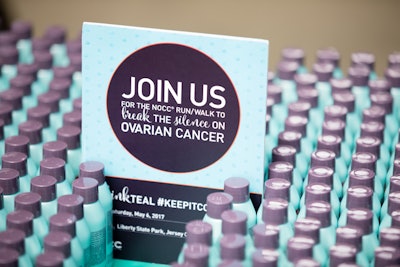 Jump On the Bandwagon
So how does one rally in support of those affected by ovarian cancer? Pureology is encouraging salons and stylists to support their local National Ovarian Cancer Coalition (NOCC) Run/Walk to Break the Silence on Ovarian Cancer by participating in local events. Can't make it in person? "For those unable to attend an NOCC event, we encourage them to follow along and join in the conversation with Pureology surrounding ovarian cancer awareness by utilizing the #ThinkTeal and #KnowOvarian hashtags across social media platforms," says Leslie Marino. For more intel, visit pureology.com or ovarian.org for an up to date schedule of events nationwide.
-by Angela Melero
[Images courtesy of Pureology]