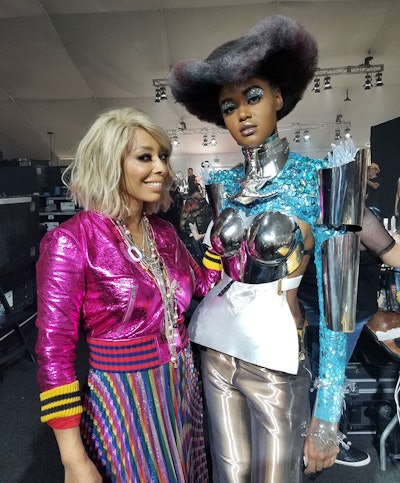 At the North America Trend Vision Awards, 50 talented contestants from the United States, Puerto Rico and Canada competed for a chance to represent North America on the world stage.
In addition to the live competition and awards, the evening showcased an inspiring line up of artistic presentations from some of the best hairdressing talent the industry has to offer.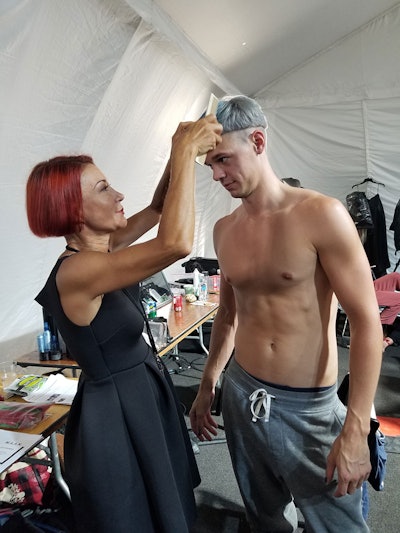 Wella also recognized the life's work and legacy of a salon industry icon, legendary Fabio Sementilli to thunderous applause.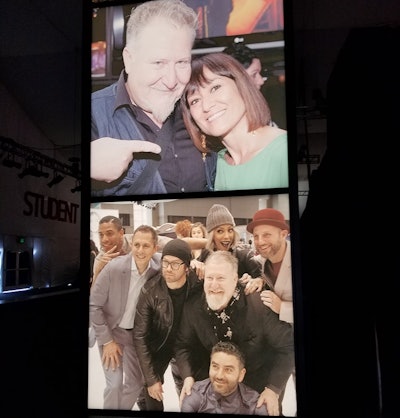 Earlier this month at a private event, Beauty Changes Lives Foundation announced the Fabio Sementilli Professional Mentorship Scholarship honoring his contributions to professional beauty education. Learn more about the opportunity to support this new scholarship initiative focused on supporting licensed professionals at https://beautychangeslives.org/fabio-sementilli-mentorship-scholarship-fund/.
Beauty Launchpad congratulates the NATVA winners: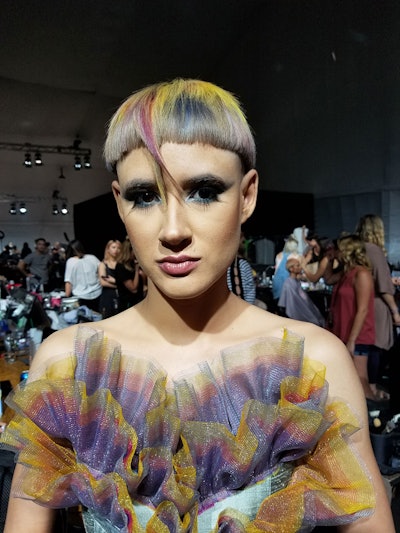 COLOR VISION USA
Gold: Katie Manselle, Culture Hair Studio, Durham, NC
Silver:  Michael Haase, PlatinumBlack, Los Angeles, CA
Bronze:  Michelle Schlottman, Mario Tricoci, Schaumburg, IL
COLOR VISION CANADA
Gold: John Carreiro, Carriero The Studio, Victoria, BC
Silver: Eryn Wall, The Headroom, Paradise, NL
Bronze: Tatiana Shevtsova, Attivo Salon, Burlington, ON
COLOR VISION PUERTO RICO
Gold: Jose Quinones, Peter Cardon Salon, San Juan, PR
Silver: Ruth Carrasquillon, Ruth Carrasquillon Salon, Ponce, PR
Bronze: Antoni Flores Virellan, The salon by Shielan, Guaynabo, PR
CREATIVE VISION USA
Gold: Shirley Gordon, Strands Hair Studio, Wheaton, MD
Silver: Tiffany Deliberto, Mario Tricoci, Schaumburg, IL
Bronze: Recon Hutchinson, Sören Salon, Atlanta, GA
CREATIVE VISION CANADA
Gold: Daniel Grieco, Salon Gaboa, Maple, ON
Silver: Nick Themistocleous, Salon Afif, Toronto, ON
Bronze: Cristina Prioletta, Salon Augustin, Montreal, QC
CREATIVE VISION PUERTO RICO
Gold: Glory Aviles, U Salon, Toa Baja, PR
Silver: Emmanuel Torres Gratacos, VIP Hair Studio, Villalba, PR
Bronze: Julyennie Omlo, Beyond Salón, San Juan, PR 
STUDENT USA 
Gold: Maria de Lourdes Valentin Narvaez, Modern Hairstyling Institute, Bayamón, PR
Silver: Katie Echels, Ogle School, Denton, TX
Bronze: Jaileen Velez Huertas, Modern Hairstyling Institute, Bayamón, PR
STUDENT CANADA
Gold: Sandra Du, Texture Hair Salon, Ottawa, ON
Silver: Aliyyah Phady, Marvel Beauty School London, Cambridge, ON
Bronze: Kim Turner, Vodoo Hair Studio, St. Albert, AB  
PRIZES FOR NATVA WINNERS:
Color Vision Gold (1st place prize)
Represent the country at the International Trend Vision Competition
Participate in an editorial photo shoot with Vogue
Creative Vision Gold (1st place prize)
Represent the country at the International Trend Vision Competition
Work backstage at New York Fashion Week (NYFW)
Student Gold (1st place prize)
Professional kit, retail value of $2000
Color Vision, Creative Vision, Student Silver and Gold (2nd and 3rd place prize)
$1,000 gift card for Wella Education (Silver)
$500 gift card for Wella Education (Bronze)