Despite being located just steps away from the bustling Las Vegas Strip, BATHHOUSE Spa is a peaceful oasis that makes for the perfect getaway from the casinos and cabarets. I recently discovered the spa during my stay at the Delano Hotel Las Vegas, which features an upscale vibe but is less flashy than its counterparts—a trait that I found very appealing when I signed up for my Desert Stone Mani & Pedi.
The 14,000 square foot spa, which is tucked away on the second floor of the hotel, includes 12 treatment rooms; hot-and-cold plunge pools, eucalyptus steam rooms, redwood saunas, relaxation lounges, vanity rooms, a nail salon, and a state-of-the-art gym. My session featured a 50-minute manicure and an 80-minute pedicure that incorporated desert sage and lemon blossom oil into the treatment—the hot stone massage also added a nice final touch, and I emerged from my service feeling incredibly relaxed.
In the spirit of the current season, BATHHOUSE offers a special spring service menu, which includes fun treatments like the Lemon Dream Massage, Vitamin C Brightening Facial, and the Lemon Zest Pedicure. Spa passes are complimentary with the purchase of any treatment; however, day passes are also available at a special price to guests who want full access to all of the amenities without booking any services.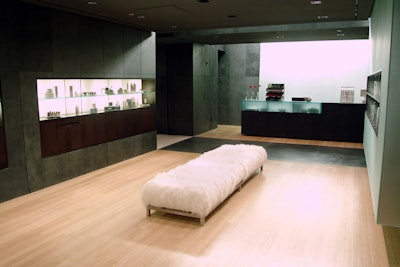 Deeba Haq, director of Spa Operations at BATHHOUSE Spa at Delano Las Vegas, gives us the scoop on the spa's unique design and desert-inspired treatments. 
LAUNCHPAD: What does "BATHHOUSE" Spa mean?
The spa's name is inspired by the water elements that can be found throughout the spa. These include large hydrotherapy bathtubs in the women's area, Jacuzzis and steam rooms, a water wall and more. We even offer submerge treatments that feature a bathtub soak. Our signature bath, Delano Signature Fizz Bath, is a favorite among guests.
LAUNCHPAD: Tell us about the spa concept and experience.
The serene yet elegant design of the spa features dark polished stone, textured covered walls, chic glass accents and the soothing sound of falling water. Delano Las Vegas's design honors the desert surroundings around the property, and we continue that philosophy in the spa. Our menu pays homage to the desert with locally sourced ingredients, including cacti and wildflowers.
LAUNCHPAD: What inspired the Desert Stone Mani & Pedi?
The Desert Stone Manicure and Pedicure are inspired by the desert elements native to Nevada and fit in perfectly with Delano's design concept. Both services feature desert sage aromatherapy oil and a mineral mud masque, which is a mud masque that includes trace minerals. We have offered them since 2015.
LAUNCHPAD: What are some other recommended services on the menu?
Some of my favorite locally inspired treatments include:
Desert Oasis Escape: This deep cleansing facial features a mask with properties extracted from the Mojave region to draw out excess oil and impurities. It also features a massage with grapefruit, lavender, lemon and sage oils that help detoxify and refresh the skin.
Red Rock Anti-Aging Treatment: Salt from Utah's Great Salt Lake is used in a full body scrub, accompanied by a wrap inspired by Red Rock Canyon's red mud that tones and replenishes the skin. This service is hydrating and the active ingredients promote glowing, youthful skin.
Desert Stone Massage: This deeply relaxing, full-body massage uses warm stones combined with sage and lemon massage oil to melt away muscle tension and stress.
To learn more about BATHHOUSE Spa's services, click here.
[Images courtesy of BATHHOUSE Spa]