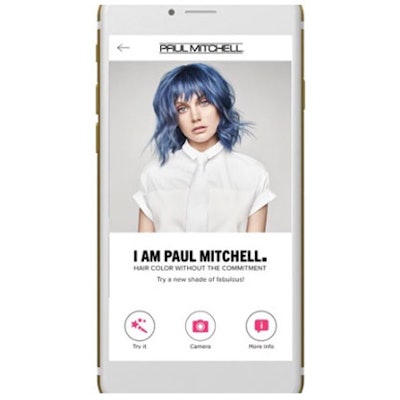 Paul Mitchell is giving consumers the chance to get creative with their hair color, commitment-free. The brand is kicking-off a partnership with YouCam Makeup this month that allows consumers the opportunity to virtually try-on a vast assortment of shades from their professional hair color range. Paul Mitchell is the first hair care brand to be featured on the leading beauty app, and the use of consumer-facing, virtual makeover technology is a first for the brand as well.
 
"Hair color isn't 'one-size fits all,' and we're thrilled to join forces with Perfect Corp. and YouCam Makeup to ease the intimidation that can sometimes come with a potential hair color change," said Michaeline DeJoria, Vice Chairman at John Paul Mitchell Systems. "Our salon partners are so important to us, and in addition to consumers, we view this as an invaluable tool for Paul Mitchell hair stylists, helping to drive sales of hair color services," added DeJoria.
 
YouCam Makeup users will have the opportunity to "try-on" a wide selection of Paul Mitchell Professional Hair Color shades, and then locate a salon nearby to bring the desired shade to life. Utilizing YouCam Makeup's precise instant hair mapping technology and unmatched natural color layering, the app delivers true-to-life hair color, helping users visualize hair color transformations before committing to a color change — whether used for fun at home, or with a stylist during a consultation.
 
The upgraded app featuring Paul Mitchell Professional Hair Color and new capabilities was just officially unveiled to the company's vast network of professional stylists at its biannual Gathering event in Las Vegas. In addition to live demos at the event, John Paul Mitchell Systems will promote the partnership across all consumer and professional facing Paul Mitchell channels including social media, websites and e-distribution channels. The app will further be supported by their professional network through salon communication, dedicated tip cards and video content.
 
"We are thrilled to provide even more virtual makeover possibilities to our users by bringing Paul Mitchell's superior hair color collection to YouCam Makeup," said Alice H. Chang, CEO of Perfect Corp. "Paul Mitchell's trusted and reliable products complement YouCam Makeup's augmented reality makeover technology, creating a true-to-life hairstyling experience in our virtual salon that helps consumers select the right hair color quickly and easily."
 
The colors highlighted will offer something for everyone, with shades ranging from blondes, to reds and browns, to vivid pink and blue; all aligning with a variety of Paul Mitchell Professional Hair Color formulas, including NEW POP XG and The Demi lines, as well as Paul Mitchell the Color, The Color XG and PM SHINES. A consultation icon is built into to the app to support each color swatch, linking users directly to Paul Mitchell's Salon Locator, where they can make an appointment to bring their virtual makeover to life.
 
Paul Mitchell Professional Hair Color is now available for "try-on" with the YouCam Makeup app; YouCam Makeup is available for free in the App Store and through Google Play.