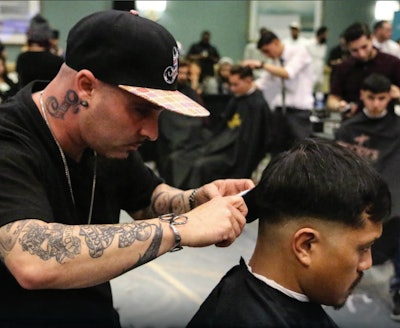 Men's grooming specialists will get to show off their skills for the first time at the inaugural Premiere Barber Challenge powered by Andis at the Premiere Orlando Beauty Show on June 5-6 at the Orange County Convention Center. Andis Company is sponsoring this freestyle men's haircutting competition so that licensed professionals and students will have a forum to feature their men's grooming expertise.
"We are excited to partner with Premiere and the PBA to host a men's grooming competition for professionals who may not traditionally attend a beauty show and students who are gravitating toward a career in men's grooming. The Premiere Barber Challenge powered by Andis allows us to shine a light on these specialists who are already masters or becoming masters in the art of clipper cutting," says Karen Formico, vice president of marketing for Andis.  "The surge in the trend of male grooming shows no sign of slowing, so it is important that we in the industry offer opportunities to showcase men's grooming at its best."
Professional barbers, cosmetologists and students from across the country will demonstrate their ability to create both classic and cutting-edge looks using Andis professional tools on a live male model. The contestants will have 30 minutes to complete the cut where they must remove at least ½ inch of hair. Competitors will be judged on technique, originality, style and tool usage. The top three contestants in the pro division will win $250/$150/$75 respectively, while the top student winners will receive $150/$100/$50. All entrants will receive an Andis tool package valued at more than $150.
Cost for registration is $90 for students prior to May 23 and $100 after that date. Professional registration is $100 and $120 after May 23. In addition, registered competitors and models will receive a complimentary two-day ticket to Premiere Orlando.
For more information about the Premiere Barber Challenge, or to register for the competition, please visit http://www.probeauty.org/premiere.