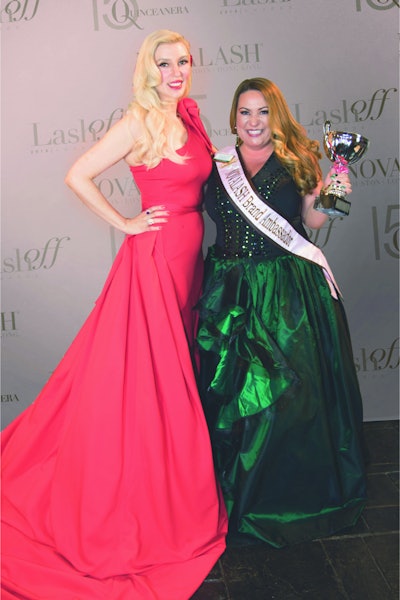 On February 8, 2019, Oklahoma native Raylene Cravens was named 2019 Lash Artist of the Year at NovaLash's 8th Annual LASHoff Gala. The glamorous award ceremony at The Bell Tower in Houston marked the brand's 15th anniversary, complete with a Quinceañera theme, and hosted the top four competition finalists in addition to NovaLash Brand Ambassadors and professionals from across the globe who have served the company for more than 10 years. 
NovaLash Founder and CEO Sophy Merszei said, "As always, selecting a winner from among so many dazzling submissions by leading global lash stylists was extremely difficult for our judging panel. In the end, Raylene Cravens stood out, not only as a brilliant lash artist with impeccable skills and technique, but as someone who always goes above and beyond to help other lash artists. She has proven herself to be a true NovaLash supporter and we are delighted to have her representing our company this year." 
RELATED: NovaLash's 2019 Training Schedule
As Lash Artist of the Year, Cravens will receive over $25,000 in cash and prizes, along with travel and business-building opportunities. She will also be featured in a magazine spread photo shoot. Like all of the LASHoff finalists and category winners, she has been named a NovaLash Brand Ambassador for 2019, and will make appearances on behalf of NovaLash throughout the year in locations like London and New York.
"This is amazing and beyond describable," said Cravens, owner of Lash by Lash in Nichols Hills, OK. "The past eight years with NovaLash have changed my life. I went from working in a small salon to owning my own luxury lash studio, and now am the Lash Artist of the Year and a Brand Ambassador. I know this is my calling—inspiring others as others have inspired me. It's really a dream come true."
The four finalists were selected from among many applicants after submitting a collection of videos and photographs that showcased their NovaLash technique, artistic skill, and fashion talent. Submissions were reviewed by a panel of judges, including Sophy Merszei, NovaLash VP of Global Education Sophia Navarro, the 2018 Brand Ambassador team, and members of the beauty press, including Eye-lash Magazine editor in chief, Stephanie Lavery.
In addition to the top honor taken home by Cravens, the other three finalists—all named 2019 "Lash Squad" NovaLash Brand Ambassadors—received much-deserved recognition. Congratulations to  Jessica Gadzalinski, Green Bay, WI, who was named Fans' Choice of the Year; Classic Winner Nikki Melillo, West Palm Beach, FL; and Volume Winner Marte Fjeldberg, Trondheim, Norway.