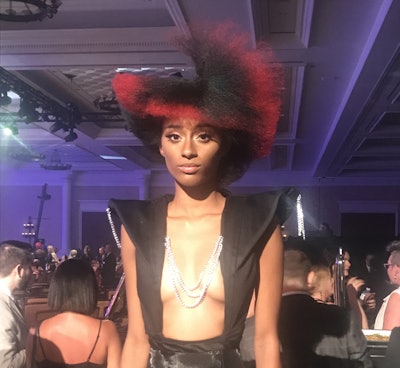 Wella's coveted TrendVision Awards celebrated exceptional hairdressing talent and creativity from North America in the high-energy city of Las Vegas. TrendVision provides stylists with the opportunity to engage with the latest trends in styling to take hair artistry to the next level and showcase their skills to advance their careers.
On Monday July 16th at Caesars Palace, 37 contestants from the United States, Puerto Rico and Canada participated in a live competition, masterfully creating show-stopping looks inspired by the trends released globally in November at the 2017 International TrendVision Awards: Nontouring SS'18 trend and Pure Chroma AW'18 trend. Nontouring features a warm palette and soft edges derived from seasonless, non-gender beauty, while Pure Chroma features a bold color palette of steel blues and gray pulled through to reds and nudes creating a monochromatic look representative of the technology and innovations that enable the talent of the hairdresser.
Guests cheered for the finalists competing for Gold, Silver and Bronze in each of the categories: Student, Creative Vision and Color Vison. The North American gold winners in Creative Vision and Color Vision are on their way to represent the U.S., Puerto Rico and Canada respectively at the International TrendVision Awards staged in Lisbon, Portugal in November 2018.
U.S. Gold Winners:
Creative Vision: Edison Lu, &Hair Lounge, New York, NY
Color Vision: Emma Hancock, Moriah Brandons Salon, Altamonte Springs, FL
Canada Gold Winners:
Creative Vision: Robert Rella, Salon Gaboa, Woodbridge, CA Color Vision: Daniel Grieco, Salon Gaboa, Woodbridge, ON
Puerto Rico Gold Winners:
Creative Vision: Jaileen Vélez Huertas, Modern Hairstyling Institute, Bayamón, PR Color Vision: Rafael Ortiz Cotto, Rafael Ortiz Salon Academy, Caguas, PR
Student Gold Winner: Julissa Alonzo Blanco, Modern Hairstyling Institute, Bayamon, PR Mentor of the Year: Daniel Lozada
On the runway, finalists demonstrated their range of skills and creativity in hopes of being crowned one of hairdressing's rising stars of the future. The judges, who represent a diverse group of leading industry experts, included Sonya Dove, Wella Professionals Global Top Artist; Gerard Scarpaci, Co-Founder of Hairbrained; Briana Cisneros, Global Educator; Lena Ott, Celebrity Colorist; and Luis Pacheco, Celebrity Colorist. The panel evaluated overall look, technique and creative expression based on criteria specific to the finalists' category.
As part of the evening's entertainment, three teams, comprised of Wella Top Artists and Brand Educators, delivered artistic presentations based on the theme: "New Beginnings: Exploring the Pure Art Form of Hair." The teams won the honor to present based on their submissions to Wella Professionals' "Journey to the Stage Challenge," an open call to all Wella family artists from the U.S., Canada and Puerto Rico to win an opportunity to present at the 2018 North American TrendVision Awards.
The winning teams who presented include:
The Expressionists: Anna Holaday, Whitney Parr, Janet Algeciras
Introspectra: Caroline Kim, Brenton Lee, Daniel Lozada, Stevie Smith
Northern Lights: Dana Lyseng, Paul Nasrallah, Antonio Quintieri, Eryn Wall, Emily Murphy
Prior to the live competition, Coty Professional hosted guests at the inaugural Coty House of a Beauty, an exclusive, immersive event featuring the latest product innovations across the entire portfolio. The showcases included Wella Color DJ from Wella Professionals, the No. 1 professional hair color brand globally; the latest formulas and product lines from OPI, the leading professional nail lacquer; and new technology from ghd, award- winning styling tools for healthy hair and long-lasting results. Coty House of Beauty marks the first time Coty Professional presented its groundbreaking innovations in North America.
Guests heard from Coty Professional Brand Leaders:
Sara Tomich, Wella Professionals Senior Education Manager and Rebecca Godlove, Senior Director Professional Haircare
Paula Rufo, Professional Hair Care Research and Development Senior Manager and David Sarro, Professional Hair Care Research and Development Global Director
Lindsay Perez, OPI Global Education Senior Manager and Tom Bachik, OPI Global Celebrity Ambassador
Christina McCarver, ghd Senior Education Manager
COLOR VISION USA
Gold: Emma Hancock, Moriah Brandons Salon, Altamonte Springs, FL Silver: Taylor Roles, Bijin Salon and Spa, Prairie Village, KS
Bronze: Jamie Gonzales, Union South Salon, Pasadena, CA
COLOR VISION CANADA
Gold: Daniel Grieco, Salon Gaboa, Woodbridge, ON Silver: Frank Dicinto, Salon Gaboa, Woodbridge, ON Bronze: Veronica Tadros, The Strand, Waterloo, ON
COLOR VISION PUERTO RICO
Gold: Rafael Ortiz Cotto, Rafael Ortiz Salon Academy, Caguas, PR Silver: Carol Mojica, Carol Moijca Beauty Expert, Caguas, PR Bronze: Ramon Luis Torres Castro, Saline Salon, San Juan, PR
CREATIVE VISION USA
Gold: Edison Lu, &Hair Lounge, New York, NY
Silver: London Michalske, Mario Nico Salon, New York, NY Bronze: Brianca Liggins, Mario Tricoci, Vernon Hills, IL
CREATIVE VISION CANADA
Gold: Robert Rella, Salon Gaboa, Woodbridge, CA
Silver: Cristina Prioletta, Stephan W Atelier, Montreal, QC Bronze: Adriana Dicintio, Salon Gaboa, Woodbridge, CA
CREATIVE VISION PUERTO RICO
Gold: Jaileen Vélez Huertas, Modern Hairstyling Institute, Bayamón, PR Silver: Emmanuel Torres Gratacós, Manuel Gratacos Salon, Villalba, PR Bronze: Natalia Nieves, Pete Cardon Salon, Guaynabo, PR
STUDENT
Gold: Julissa Alonzo Blanco, Modern Hairstyling Institute, Bayamon, PR
Silver: John Michael Burgos Mejías, Modern Hairstyling Institute, Bayamon, PR Bronze: Taylor Alexander, Ogle School of Hair, Skin & Nails, Stafford, TX
PRIZES FOR NATVA WINNERS:
Color Vision Gold (1st place prize)
Represent the country at the International TrendVision Competition
Participate in an editorial photo shoot
Creative Vision Gold (1st place prize)
Represent the country at the International TrendVision Competition
Work backstage at New York Fashion Week (NYFW)
Student Gold (1st place prize)
Professional kit, retail value of $2000
Color Vision, Creative Vision, Student Silver and Gold (2nd and 3rd place prize)
$1,000 gift card for Wella Education (Silver)
$500 gift card for Wella Education (Bronze)