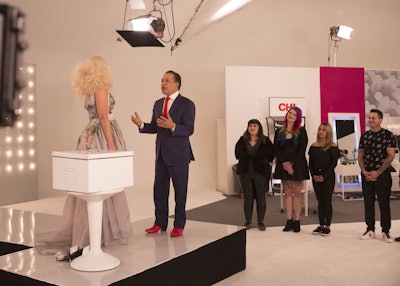 Farouk Systems is thrilled to announce its participation in "The Look: All Stars," a new hour-long make-over beauty competition format created by Dreamventure Productions, beginning, Sunday, June 24th across Sinclair owned CW and MyNetwork affiliates. Dr. Farouk Shami, Hairdresser, Chairman & Founder, Farouk Systems, CHI Expert and Celebrity Hairdresser Scotty Cunha and Esquire Fashion Director Nick Sullivan are all featured on the show's premiere episode "First Look - The Look: All Stars!"
"For Farouk Systems and our brands CHI and Esquire Men's Grooming, partnering with The Look All Stars allows us to bring our company mission to life on television – empowering and celebrating beauty professionals and their artistry," said Dr. Farouk Shami, Chairman & Founder, Farouk Systems. CHI, Esquire Men's Grooming and "The Look: All Stars" are lifting the curtain to share with American audiences the best in professional beauty techniques no one typically experiences except for celebrities. We can't wait for viewers to tune-in every week to see these amazing beauty pros in action."
Viewers can learn more about the show, participants, products used and see behind the scenes by following @thelookallstars, and checking out thelookallstars.com.
Hosted by actress Tori Spelling, with Style Guru Kim Vo, "The Look: All Stars" is an upbeat, head-to-toe makeover competition show featuring two teams of beauty and fashion experts at the top of their game, performing real-world and aspirational transformations. The show provides a platform to elevate hair, make-up and fashion industry artists by showcasing the latest and greatest in beauty tools, products, and fashion trends. "The Look: All Stars" will highlight talent, allowing established names to pass on their knowledge and excitement to viewers. The makeovers will provide inspiration and specific 'how-to'-s in two themed, timed challenges.
The audience engages with the show through a 360-degree approach that includes trying on featured looks in real time through leading AR app Perfect365. Additionally, the audience can experience the products used on set through product giveaways promoted on social media. Through the show's website and social media platforms, the TV series will offer tutorials, color formulas, beauty recipes, and special product promotions.
 
Beauty legends, fashion icons, recognizable names from entertainment, and top social media influencers are featured on the show as judges and special guests. One team per episode wins the grand prize that includes a VIP vacation package from Westgate Resorts.
[Image courtesy of Farouk]