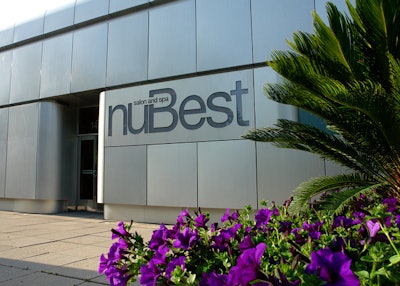 nuBest salon and spa, the first full-service salon in New York, celebrates its 45th anniversary next month. Since the salon first opened its doors on June 19th, 1973, nuBest has created a culture that emphasizes exceptional service with unparalleled quality, and with a (well-manicured) finger placed permanently on the pulse of what's trending in fashion and beauty. With a staff of over 125 beauty professionals hustling and bustling in the iconic silver building on Manhasset's Miracle Mile, and a list of services so extensive that it's printed in a booklet, nuBest's clients flock to the salon to look and feel their best every day.
When looking back on the history of this renowned beauty destination's, there are certainly a number of memorable milestones. Take, for instance, owner Michael Mazzei and his collaborator and friend Leland Hirsch's development of ARTec Worldwide, an innovative global hair care brand that was purchased by L'Oreal in 2002.
nuBest is known for its dedication to community service, as the salon has teamed up with local and global charities to promote awareness for, and give back to, wonderful causes. Of course, there are also the countless celebrities who have pampered themselves at nuBest over the years, from Lance Bass, Joey Fatone, Adrienne Bailon, Renee Graziano, Paula Garces, Kym Johnson, Tony nominated couple Orfeh and Andy Karl – just to name a few. However, bringing in big names isn't necessarily the endgame: Mazzei's ultimate goal was (and still is) to make every single client feel like a high-profile and glamorous superstar.
"Celebrating nuBest's 45th anniversary feels like a dream. It has been an incredible experience to witness firsthand how the salon has evolved over the years," says Mazzei. "I am so proud of what my family and I have been able to achieve with nuBest -- we have created a community for our clients, with the help of some of New York's best stylists."
The future is always at the forefront at nuBest salon and spa, and the next generation of the Mazzei family -- including Jamie Mazzei, Vincent Cascio and Christian Fleres -- continues to innovate in keeping with the salon's reputation as a place where trends are set.
[Image courtesy of nuBest]