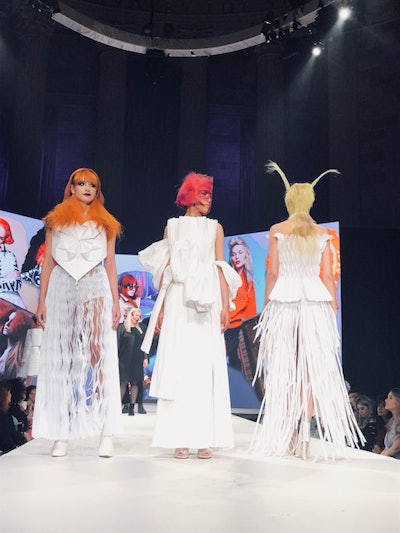 Education, inspiration and the latest hair trends collided on the Hairplay International 2018 catwalk, hosted by Goldwell and KMS at the ornate Gotham Hall in New York City's Garment District.
The evening's Master of Ceremony was none other than Shannon King, national artist and creative development consultant, who kicked off the night by welcoming the crowded room of attendees. "You're gonna see some things you've never seen before; you're also going to see finishing and styling in a totally new way," he teased the audience. "You're going to see fantasy, fashion and creativity intersect into ideas that are going to take you to another place—but you're also going to take them back to the salon and use them."
A live violinist played rhythmically as the color collection premiered, with shades ranging from blue gray to a neon-hued yellow, indicating that HD color had made its debut. "Who doesn't love a good filter? This entire collection is based on gradient light and high definition color in the hair," explained Goldwell national artistic master Rebecca Hiele.
The styling collection then took the spotlight, proving that texture is still everything. "We've taken street style and high style and fused them together, taking them to a whole new level," said Lori Panarello, KMS artistic team member, on the inspiration behind the collection.
Attendees were then treated to an avant-garde collection inspired by a "dark queen," courtesy of the legendary Sharon Blain.
King concluded the evening by thanking all attendees and artists as the entire team took a final lap around the runway. Even though the show was over, guests lingered long after to enjoy the open bar, snap selfies and party. An enchanting evening, indeed.
Images: Emilie Branch