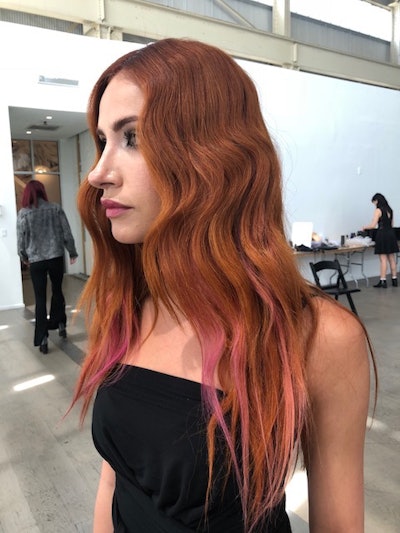 Oribe hosted its first Atelier of the year at the Duggal Greenhouse in Brooklyn, New York on May 7th. More than 450 guests were in attendance to celebrate the daylong event dedicated to hands-on education and trends. Guests mingled over green juice, cappuccinos and hor'd'oeuvres before top stylists took to the stage. Oribe president and CEO Daniel Kaner kicked off the morning with a speech dedicated to the haircare team, a group he is incredibly proud of and grateful for: "The Oribe team has lived our brand values and taught me much," he told attendees. "There's something so incredible when people are giving us their best."
Oribe continued to bring the best forward, starting with Coby Alcantar, director of training and content, cutting. Alcantar took the stage, demonstrating the how-tos for a graduated bob haircut. She was joined by Christian Ceja-Compin, educator, who created the same cut (and added bangs) on a curly haired model, while Katie Manselle, educator, turned her shears on a male model for a grungy interpretation of the short style.
Goldwell then took center stage to introduce the brand's Pure Pigments collection featuring HD color. The team showed off Earthbound Cool, a platinum with pastel accents; Wanderlust, a warm blonde with mulicolor interior shading; Bohemian Bronze, a sunset color with hints of rose; and Psychotropic Bright Red, where cherry red meets ultraviolet.  
More stylist talent stepped up, with James Pecis, Oribe global ambassador, translating the runway to the salon. "Our real goal at Oribe is for you to go back to the salon and take away information you can actually use," he notes. Pecis demoed an elaborate knotted updo, which originally premiered at the Issey Miyake runway show in Paris. Kien Hoang, director of training and content and Ronnie Stam, creative director, also presented on the main stage. In between demonstrations, inspiring videos were played of Oribe's top talent giving back to the community and creating—including an insider's look at how the products themselves come to be.
After the onstage event wrapped up, 115 salon owners and stylists stayed to participate in the hands-on portion of the training, and tackled a "two-in-one" style. All were tasked with crafting pin curls, turning them into loose waves, and cutting their wigs for a romantic look tailor-made for clients.  
Of course, where there's learning, there's recess. The ultra-luxe brand took advantage of a work/play atmosphere, setting up multiple stations dedicated to pure fun. Guests were encouraged to try their luck at a product-filled claw machine, make their own GIFs next to a larger-than life blowdryer and personalize their Oribe swag at an embroidery station. All in all, a most perfect day.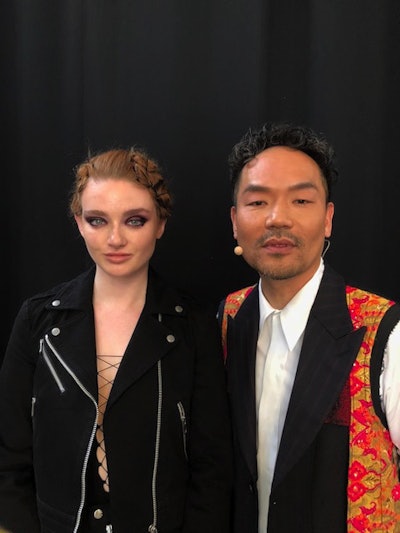 Images: Emilie Branch