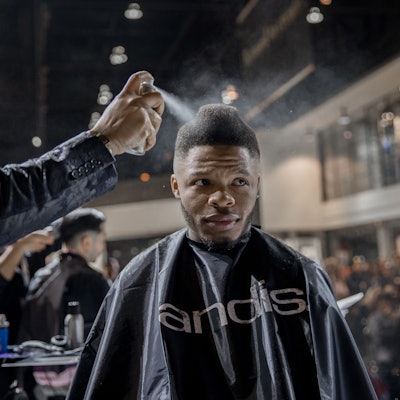 Last weekend, Andis Company took the CosmoProf Center Stage to host the second annual Fabulous Fades Competition at America's Beauty Show. Using exclusively Andis tools, men's grooming contestants competed for their chance to win a share of $1,200 in cash prizes.
Licensed professionals from across the country were challenged with creating cutting-edge looks in 30 minutes on a live model removing at least 1⁄2 inch of hair. Contestants were judged on their technique, originality, style and tool usage by Andis Global Education Manager, Jessica Zeinstra and Andis Educators, Whitney Vermeer and Scott Ramos, who, collectively have over 25 years' professional experience and demonstrate exceptional leadership in the men's grooming space.
The top three barbers, Nasee Yehuda, Jessie Gil and Anthony Chester Jr., were awarded monetary prizes for their innovation and execution. All contestants took home an Andis tools package valued at over $150, which included some of the brand's top tools and accessories.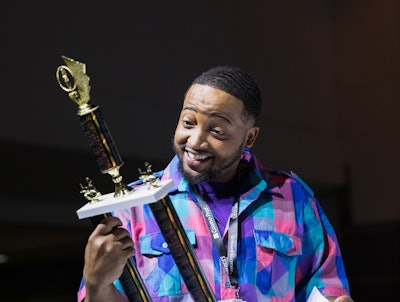 "We were very honored to have some of the nation's best talent join us on stage at the second annual Fabulous Fades Competition to showcase outstanding techniques and the art of men's grooming," said Jessica Zeinstra, Global Education Manager at Andis. "It was amazing to see such creative use of Andis tools in a variety of different ways to take each style to the next level."
First place winner, Nasee Yehuda from Madison Street Barbers in Chicago, took a freestyle approach to create a funky style with a classic fade to achieve the top spot and received a $500 cash card. Second-place winner, Jessie Gil from Skull & Thrones Hair Society in Addison, IL, and third-place winner, Anthony Chester Jr. from BJ's Barbershop in Gary, IN, received a $400 cash card, and a $300 cash card, respectively.
Andis will host its next men's grooming competitions at Premiere Orlando on June 2-4.
[Images courtesy of Andis]