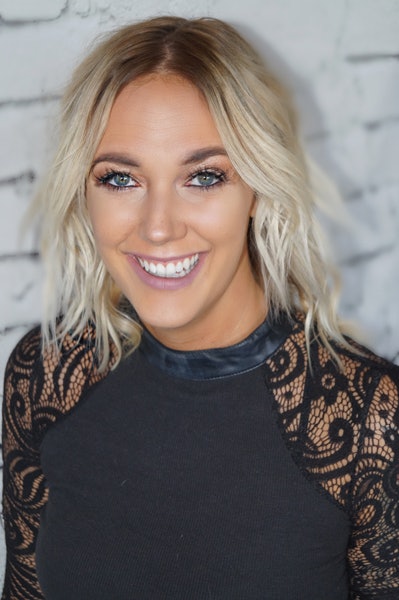 Don't let the bright haircolors and glitter fool you—working festivals is certainly not as glamorous as it looks: Early call times, extreme weather and desert dust are a few of the things you don't see on your Instagram feed. But that doesn't make working at Coachella any less exciting!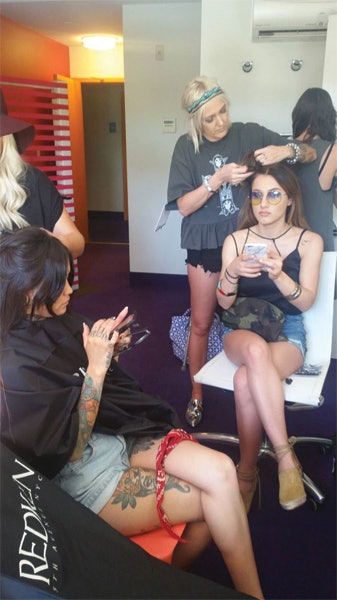 PHOTOS: BioSilk's Stunning Festival Collection
As a Redken artist, I've been asked to work the festival because of my affiliation with the brand and my social media savvy. When doing hair at a Coachella beauty suite, my day typically starts around 6 a.m. After grabbing a quick breakfast (there isn't much time to eat), I head to the VIP suite to start styling social media influencers. We don't actually do hair on the festival grounds; we work out of a hotel where we have the events set up. Guests often bring in pictures of looks they like and we recreate them, putting our own fun twists on the styles. I work on lots of international beauty influencers, who are flown in from all over the world for a fierce festival experience consisting of VIP pool parties and a glam suite stocked to the brim with Redken artists such as myself who are ready to style their hair. Halfway through the day, we then head to the SalonCentric Airstream to style festival goers who are heading to Coachella; these are simple and quick looks that will instantly make them look festival fierce! The Airstream is a fully loaded mobile salon that is set up outside of the hotel. Any guests staying there are welcome to come in and get their hair done.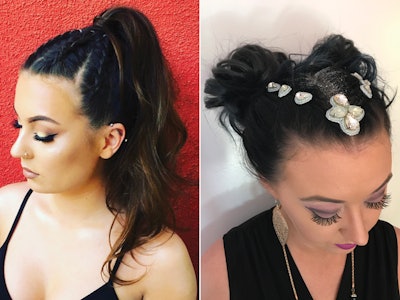 The workday ends at 4 p.m., when we clean up and prepare for the next day, then meet for a team dinner. Afterward we head to Coachella and have some fun! The concerts last until around 12:30 a.m., then it's time to make the trek back to the hotel room, only to start the day all over again in a few hours.
PHOTOS: Instagram Trend Roundup - Striped Hair
In all honesty, my favorite part of working at Coachella isn't the music, fashion or hair— it's the bonding moments with the team. Hairdressers from across the U.S. coming together over their love of music and hair whilst covered in glitter and Redken Fashion Work 12 Hairspray? It doesn't get much better than that!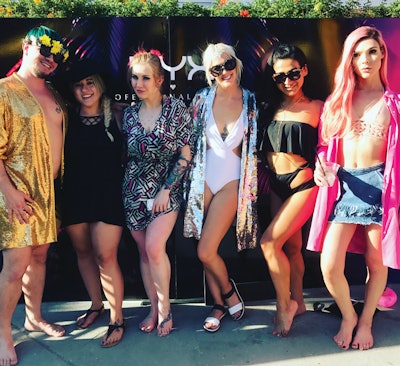 Desert Must-Haves
Redken No Blow Dry Airy Cream - On damp hair, I liberally apply Redken No Blow Dry and then twist one-inch sections into faux dreads. Hair dries in no time and can be combed out for perfectly undone waves.
Sun Bum Sunscreen - It smells like a coconut dream, comes in a travel size, and protects from sun burn. Need I say more?
Bandanas - It's so dusty in the desert! Wearing a bandana across your nose and mouth makes life so much easier when that dust kicks up!
Pink Pewter Hair Accessories - They're sparkly, colorful, and turn boring three-strand braids into something magical.
—As told to Kamala Kirk
[Images: Courtesy of Heather King]