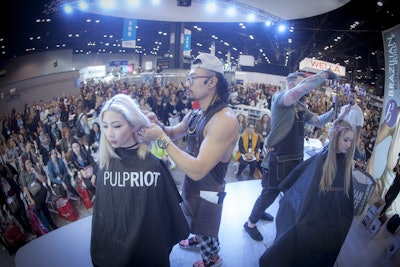 Chicago is the place to be! According to the Chicago Tribune, more than 55 million people visited the city in 2017. In addition to being home to great food, sports, and city vibe, Chicago is also home to everyone's favorite beauty show, America's Beauty Show.
America's Beauty Show (ABS) returns to Chicago, April 28-30, 2018, at McCormick Place North. The three-day event owned and produced by Cosmetologists Chicago, will host more than 58,000 salon owners, cosmetologists, students, colorists, nail techs, barbers and estheticians and offers best-in-class advanced education by leaders in the industry, plus 400+ exhibits by top hair care and color manufacturers, nail and skin care brands, tools, and salon furnishings.
Advanced Education and Edutainment
Soak in inspiration at all the the runways at ABS and other stages, including: CosmoProf Center Stage, featuring Guy Tang, Larisa Love, Philip Ring, Jacob Khan and more; Midway Star Salon Services stage, featuring Efi Davies, Indria Schauwecker and Cos Sakkas, British Hairdressers of the Year; Premier Beauty Supply stage, featuring top global talents of George Alderete, Phillip Wilson, Kate Reid, Joey Scandizzo; The SalonCentric Stage, featuring Sam Villa, Justin Isaac, Nick Stenson, Chrystofer Benson, Alexis Thurston, Hugo Urias, Rafe Hardy and more. All ABS Runways and Stages come to life with non-stop education during all three days of ABS.
Colorists can ignite their careers with several ColorAmerica Hair Color advanced education look & learns and hands-on classes. Become balayage brilliant and take classes from Candy Shaw, a.k.a. The Balay Lama. Learn to create stain-glass effects with Alix Maya of Manic Panic. Learn color quick fixes and time savers from expert Eva Scrivo. Gain more knowledge about how to translate top trends in social media and the stage to the salon with Chrystofer Benson and his CBC Creative Team. ColorFEST promises fashion, data, damage control and more on Monday, April 30th. 
Learn more hair education, earn more in the salon. The best of hair education will feature advanced education workshops on cutting, clipping and styling. To name a few, Charlie Price's Up-do Renaissance classes offer tips, tricks and timeless techniques; Traci Sakosits, Richie Rivera, Travis Smith & the Sassoon Academy are teaching the different stages of Sassoon cutting and coloring; Gerard Scarpaci is teaching how to push razor cutting to an advanced level; and Sofie Pok is identifying "sharpness" and attention to detail in short hairstyles. All this and more education is available during ABS.
Business Education at ABS will be and will feature a panel discussion on trends in the men's market and will offer insights on the present and future of the men's market. The panel will moderated by Intercoiffure America/Canada president Frank Gambuzza. Intercoiffure is a powerful salon owner organization with only the prized leading hair salon owners as members. Karen Gordon, Cosmetologists Chicago vice president, will moderate a panel discussion on salon management and how to develop an in-salon program for your employees. Karen is vice president of Cosmetologists Chicago and on the Board of Directors of Intercoiffure.
The International Nail Technicians Association (INTA) Certified Nail Professional program returns with educational sessions on design, technique, pedicure and business. There are hands-on design classes by Tracy Vinson, including how to create embellished nails without going over the top, and Amy Oung  on creating gtrendy stars, stripes and geometric shaped nail art. The hands-on classes are sponsored by Orly. "The nail education offerings at America's Beauty Show 2018 reflect the INTA's commitment to elevate, educate, and empower nail professionals in the Miidwest and beyond," said Ashley Gregory, a spokesperson for INTA and owner of The Nailscape. "For the first time ever, INTA members can take up to five free classes, and earn their CE hours at the same time! This positive innovation and value-added benefit for INTA members is why I'm very excited to be educating at ABS this year."
Makeup and Brow Education at ABS, in association with CIDESCO USA and The American Association for Esthetics, features advanced education workshops on the latest techniques, color theories, eyebrow and eyelash extensions. As well as eyebrow extensions and brow restoration, how to master a multi-tonal, multi-dimensional eye look and more.
Returning for the second year, Chicago Says No More: Domestic Violence and Sexual Assault Training Classes at ABS. Classes are FREE for salon pros to help them be prepared to assist clients or co-workers, and perhaps, save a life. Illinois cosmetologists will need this training for license renewal in 2018.
America's Beauty Show by Cosmetologists Chicago in 2018 is going to be bigger and better than before. Don't miss out on these educational opportunities, click here to register and check in often at americasbeautyshow.com for all the latest updates about ABS 2018 and all the information you'll need to make your plans for attending America's Beauty Show, April 28-30, 2018, at McCormick Place North in downtown Chicago.
[Image courtesy of ABS]