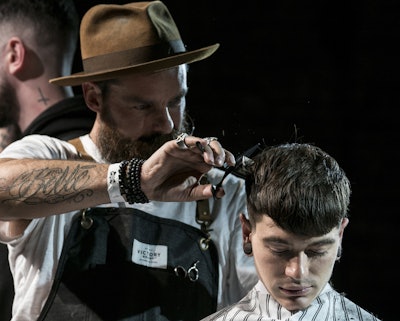 For the first time ever, the barbering world got its very own show solely dedicated to the craft of men's grooming. The Fellowship Show, held at New York's hip Brooklyn Bowl, brought hairdressers and barbers from around the country together for an evening of education, innovation and celebration.  The goal: to make the industry stronger by fusing hairdressing and barbering, and to share tips and demo techniques that attendees could take back to their day-to-day work.   
Two by two, social media barber influencers took to the stage to showcase their skills and chat up what it takes to make it in the industry. First up, Mark Bustos (a portion of the evening's proceeds will go to his #BeAwesomeToSomebody charity organization, which provides haircuts to the homeless and disadvantaged communities in the U.S.) talked about the importance of unity and stressed that those in the industry need to look out for one another. "It's not about battling one another, it's about supporting each other," he says. He also pointed out that barbers must gain their clients' trust and impress them from the moment they walk in the door. Look at their swag, duds and how they part their hair and check out their regrowth so you can inform them when their last hair cut was, he says. "You want to be able to tell them things without having to ask them and then they'll already be rebooking while they're in your chair."
Though Bustos has an impressive social media following and client roster, he told guests he's never regarded himself as a master and enjoys being in second place. "Once you consider yourself a master you limit your growth," he explains. "In 2nd place, there's always going to be that chase." He pinpointed courage, commitment, consistency and compassion as the means to his growth and ability to charge prices at his will. "I'm either expensive or free but never cheap," says Bustos. "We have to understand and know our own value and not let anyone devalue our work."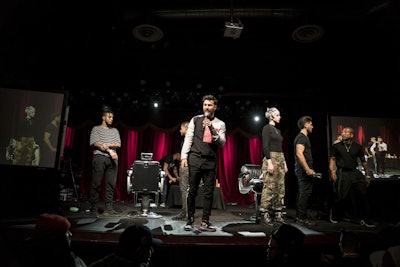 While Kevin Luchman demoed fading techniques, he spoke about the importance of creating a smooth transition between light and dark hair and keeping cuts square and also revealed who his biggest competitor is: himself.  "I believe in hairdressing and barbering—there's no wrong or right," he adds. "We're all going to be hybrids. … Don't be afraid to grow, break barriers and be yourself."
Rob the Original next showed guests how to create a star design and expressed his gratitude to the industry for allowing him to merge his passion for art into his portrait cuts. "I love doing art and you can draw anything into a cut—letter, logos, portraits," he says. "When you do something you like, it can take you to places you'd never imagine." While Julius "Julius Ceasar" Arriola gave guests a peek at his barbering skills on a female and male model, he talked about using barbering as a means to  express creativity, learning the rules and then breaking them, and what it is men's groomers are actually selling. "It's not about selling haircuts, it's about selling confidence," he shares.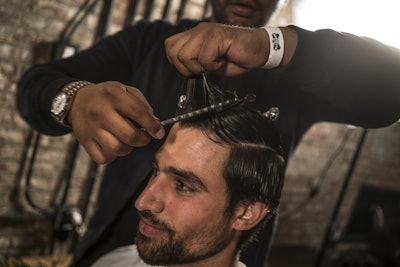 The final duo up, Sofie "StayGold" Pok and Matty Conrad, both demoed crop styles using their own individual methods. They expressed how barbers need to know their tools, but they shouldn't rely on them. "You're tools are vital but they also don't matter," says Conrad. "They don't do the haircut, you do the haircut." Also on the docket: a conversation about the newest men's trend of well-tailored yet effortless, disheveled and casual cuts and Instagram. Pok explained to guests that she first used the platform to brand her online portfolio. "It's an easy way to approach people and in one click you can share your work with the world and you never know where it will take you," she says. Conrad relayed that you shouldn't sweat the small stuff. "You don't want to attach self-worth to how many followers you have or how many likes you get," he says.
Beyond the stage presentation, guests not only scored major swag bags, sponsors American Crew, Takara Belmont, Victory Barber & Brand, Freedom Barber and Mizutani Scissors had stations lined up in the front room where guests could peruse and purchase their products or nab American Crew straight razors customized with their names. 
[Images courtesy of American Crew]