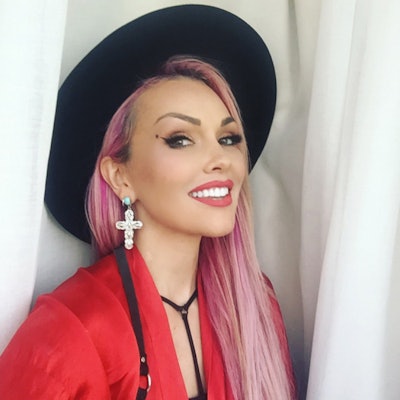 I had the pleasure of chatting with beauty influencer extraordinaire, Kandee Johnson. Kandee, a makeup artist by trade (even though she also went to hair school!), has captured the hearts of her fans worldwide with her bubbly personality and unique style. She currently has over 1.5 million followers on Instagram and almost 4 million subscribers on her YouTube channel. She is co-hosting (along with Patrick Starr) the upcoming American Influencer Awards at LA Live in Downtown Los Angeles, which is a perfect gig, as she's an incredible influencer herself.
Biggest Influences in Beauty:
When asked about her biggest influences in beauty, Kandee immediately mentioned iconic makeup artist Kevyn Aucoin.  Discovering his book Making Faces was when she first fell in love with makeup and its transformative capabilities. Beyond his amazing artistry skills, Kandee was inspired by his relationships with people and his ability to make them feel beautiful. 
RELATED: See All the American Influencer Award Nominees
Priscilla Ono. It was really inspiring to hear Kandee a talk about her friend and fellow makeup artist. Kandee remembered a time not that long ago in which she was chatting with Priscilla about their career and life goals. Priscilla's dream was to one day do Rihanna's makeup. Kandee's goal was Gwen Stefani's. These two woman put in the time and effort, so now Priscilla the creative director of Fenty Beauty (Rihnanna's makeup line) and Kandee and Gwen are basically besties. She didn't say that. I did. But it's true.
Kandee's inspiration comes not only from the way makeup makes people look, but also how it makes them feel.  Makeup, unlike anything else, has the power to make people feel beautiful and glamorous in ways they wouldn't have otherwise. 
Who to Watch?
As a prominent figure in beauty's social scene, Kandee follows some of the best in the community. She emphasized that her favorite artists (regardless of how many followers) are people who really let their creativity and artistry shine. 
Mimi Choi: a Vancouver-based makeup artist. One look at her Instagram feed, and you'll see why she's one of Kandee's faves.  All I have to say is:  WHOA.  So talented. 
Linda Halberg: a Swedish makeup artist and beauty blogger.  When it comes to makeup, she's got some skills.  It doesn't hurt that she's insanely beautiful.  #goals
Matt Conrad: A barber. Wait, what? For Kandee, inspiration comes in all forms, even if it's men's grooming. Check out Matty. He has a pretty cool message: "Fall in love with the process."
Get your tickets for Saturday's American Influencer Awards here.
[Image courtesy of ]