Tialutrell Ridley offers consumers the opporutunity to "Wake up in your makeup" with her exclusive lash lift service.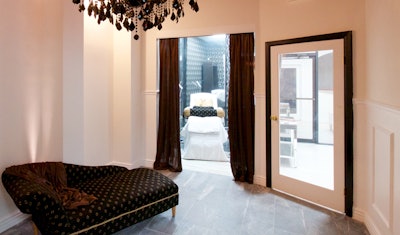 For Tialutrell Ridley, the road to becoming an eye guru began in the Far East. On a 2006 trek to Japan she witnessed the wonders of extensions first-hand and immediately knew she wanted to pursue lash artistry. "I freaked out and thought it was so cool!" exclaims Ridley, who began a mobile lashing career as soon as she returned stateside. A few years later—and with some professional training under her belt—Ridley revisited Japan and set her eyes on her true calling: lash perming. "I originally aspired to do all things related to cosmetic eye enhancement, but when I discovered perming, it blew my mind! I never looked back," she says. "I knew that 90 percent of my clients would want to switch [to perming] because they want lashes without all the maintenance. It was an 'aha' moment for me."
RELATED: The Whimsical and Inviting Winx Lash and Makeup Studio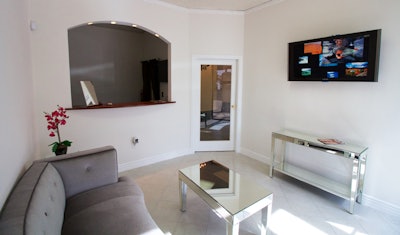 Ridley opened Eye Tactics Lash Lift Studio in 2011, but by 2014 she focused her efforts exclusively on natural lashes, phasing out all services other than lash lifting and permanent mascara. "For me to be the best, I wanted to master one thing," reasons Ridley. Not only did she open Nevada's first-and-only exclusive lash-perming studio and introduce the state to permanent mascara, she also became a top perming educator at the International Beauty Show (IBS) and Battle of the Strands; co-created Lash Wars; can claim the title of former vice president of National Eyelash Education & Safety Association (NEESA); and currently serves on the Nevada State Board of Cosmetology. To top all of that, she created her very own lash lift method and formula, Lash He2 Keratin. "I spent time talking to [industry-leading] hairdressers … and realized modern hair science hadn't transpired to lash perming," she explains. "I wanted to bring those elements—breaking down, rebuilding and nourishing hair—to lashes as well." The result: A lash service that not only guarantees major lift, but also a safe, healthy outcome—of which Ridley prides above all else for her devoted clients.
RELATED: Microblading Tips with Emily Joy and Lizzeth Gutierrez of Dollistic
The Vibe: Soft glam. Think: gray velvet couches and black crystal chandeliers. "I didn't want it to feel stuffy or have too much dazzle," says Ridley. "I have a large male following so I wanted it to be comfortable for men and women." Private treatment rooms calm all the senses with ambient lighting, plush comforters, custom scents, voice-activated music and wireless call buttons.
What We Love: The Lash Lift He2 Keratin Treatment isn't any old perming job. "It's perming with a silicone platform so it just bends your lashes back [versus curl]," says Ridley. "Understanding the science of chemically altering hair is extremely important in achieving beautiful and, more importantly, healthy results."
Retail Details: The studio sells its own line of heated curlers, lash serums (both organic and chemical) and eye pads.
Most Popular Services: The 90-minute Lash He2 Keratin Lash Lift service, which includes a deepconditioning Lash He2 Mask Treatment.