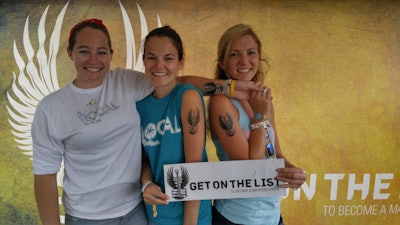 Floyd's 99, the original Rock 'n' Roll barbershop has collaborated with the Love Hope Strength Foundation (LHS), the world's leading Rock 'n' Roll cancer foundation, and their programmatic partners DKMS to help cut out cancer. Floyd's 99 will host the largest ever one-day bone marrow swab registry event, in participating shops, on Saturday, November 4th.
Over 82 Floyd's 99 barbershop locations in 10 states including AZ, CA, CO, IL, MA, MD, MI, MN, PA, and VA, will have swab envelopes available to Floyd's 99 clients to encourage people to register for the International Bone Marrow Registry. After deemed eligible and the registration form is complete, a simple cheek swab is all that's required to get on the registry, and it takes less than five minutes to potentially save a life. If the client doesn't want to complete the swabbing process in-shop, they can visit the Floyd's 99 virtual drive event at http://floyds99.gotl.org to have a swab envelope sent direct to their home. Full eligibility requirements available online at https://dkmsgetinvolved.org/eligibility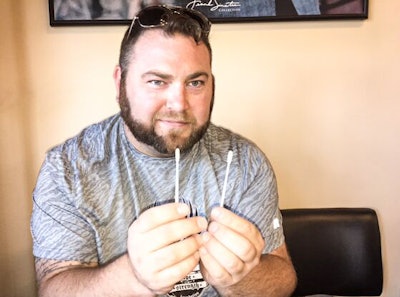 "We're really excited to be partnering with Love Hope Strength to help save lives," said Melanie Schemmel, shop manager at Floyd's 99 in Highlands Ranch, CO. "This event hits home for me personally because my mother in law has Non-Hodgkins Lymphoma and she just went through a bone marrow biopsy prior to starting her next round of medication. Also, my mother is a Berkits Lymphoma survivor who had a bone marrow transplant that we believe saved her life. Five minutes is all it takes to change the course of someone's destiny."
While customers are waiting for their haircut appointment, they can review the eligibility check list, complete registration paperwork, get a swab packet from the reception desk, swipe one swab on each cheek and insert the swabs into a sealed envelope to return to reception. Joining the bone marrow donor registry is a commitment to save the life of someone battling leukemia, lymphoma, or other cancers and blood disorders if matched by doctors as a peripheral blood stem cell donor or a bone marrow donor.
"The potential impact of this simple act of generosity is staggering," said Rob O'Brien, co-owner of Floyd's 99. "Only 1 of every 430 who add themselves to the Bone Marrow Registry will be a match and go on to donate, and yet every 3 minutes, someone is diagnosed with blood cancer -- 480 people each day! -- and leukemia kills more children than any other cancer. A quick swab of the cheek is all it takes to the join the fight against these diseases. We're grateful to the Love Hope Strength Foundation for helping us make it easy for our customers to sign up to get on the registry."