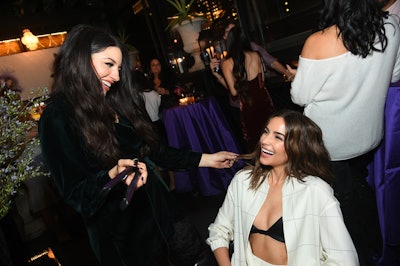 Looking great from day to night can be one of our biggest challenges. Thankfully, ghd—the official brand of good hair days—has launched their nocturne collection to equip you with everything needed to look amazing 24/7. We were at the official nocturne kickoff party in NYC and caught up with celebrity hairdresser Justine Marjan as she styled fellow brand ambassador Olivia Culpo, to find out what makes this collection so unique.
To take hair from day to night, Justine grabs her ghd Platinum styler, her favorite tool for creating flatiron waves. "The rounded edges help you achieve that perfectly imperfect bedhead wave, adding volume or smoothing where you need it," she explains. "For night I love flipping the hair to the side or tucking one side behind the ear and adding a statement earring or hair accessory to dress it up," Justine says of her patented evening technique.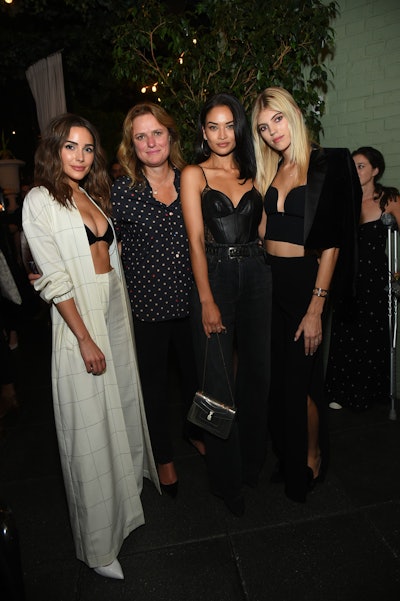 The ghd nocturne collection was designed with the holidays in mind, though you can rely on it year round. When asked what sets the collection apart, Justine comments on the color, which is definitely eye-catching. "It has a beautiful new purple color that is super chic for the holiday season." What ghd has in form it also has in function. The collection not only includes a dryer and styler, but the contour crimper, a standout tool in any kit—and what Justine is most looking forward to with the launch. "I'm very excited to add the new ghd Contour, a crimping tool, to my kit. I love this tool to amp up and embellish my favorite looks or to add volume at the roots," she describes. "For stylists, it's also a great tool to add texture to the hair for silkier hair types that have a hard time teasing or holding volume," Justine adds.
The nocturne collection relies on tri-zone® technology, which further serves to set the stylers apart. "All ghd styling tools are able to maintain an optimal heat styling temperature because of the advanced tri-zone technology," she says, telling us how it works. "It's very simple," she assures. "Each styling tool has 6 sensors. Each sensor ensures that the optimum temperature of 365˚F is delivered constantly and evenly throughout the plate/barrel of the tool. Most other styling tools have fewer sensors, so the plate may heat up unevenly, delivering inconsistent results in the hair," she describes. 
With Justine and Olivia's official seal of approval, we're sure we can't go wrong with these stylers. We can't wait to leave the event and plug them in!
[Images courtesy of ghd]