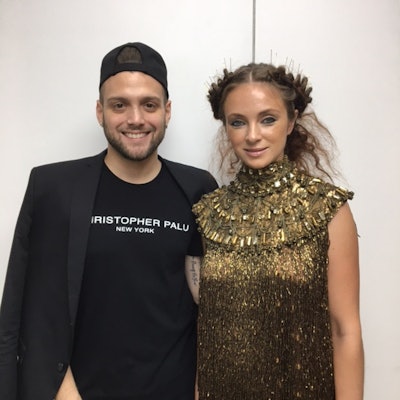 There's nothing like working backstage during fashion week, and there's often little that can prepare you for such a stimulating experience. That is, until veteran Aubrey Loots, who's served as key hair for shows in NY, LA and Paris decided to show us the ropes at Wella's Backstage Pass. Working alongside Project Runway alum, fashion designer Christopher Palu, the two taught stylists the in's and the out's of being backstage and in editorial, recreating both a runway show and a photoshoot over the course of the two-day workshop.
"It was a full collaboration," says Palu of working with Loots on his SS18 collection. "We were sending each other editorial pictures back and forth," Palu describes. "He would send me inspiration and then I would send him pictures I would find, and we would blend them together," adds Loots on their team effort. The styling team recreated each totally unique style, as Loots and Palu sent all the girls down the runway with entirely customized hair. "I made sure every model had a different look, but it was still a collection," Loots explains. The theme of the show was strength (perfect for this super strong duo) and was inspired by Joan of Arc. "Having the hair off the face gives her strength," comments Loots, noting, "tighter braids give a warrior look."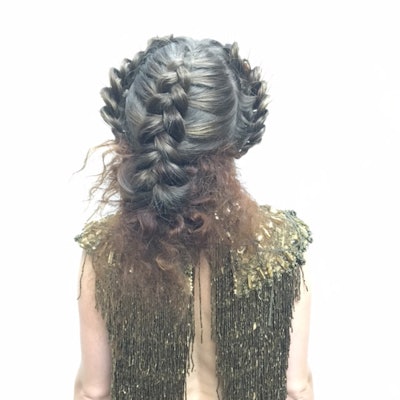 Loots gives the stylists advice from start to finish of the workshop. From what to expect in the fast-paced world of backstage and editorial, to timing and sharing insider lingo—"you must stay 'stepping in' before touching up a model on a shoot," Loots tells the class, lest someone interfere with a money shot. As the workshop was as hands-on as possible, stylists stayed close as they staged their own runway show and their models were photographed.
Loots and Palu take every opportunity to educate. "The line is where you add your finishing touches," advises Loots as he sorts out finishing details right before the girls head out to the runway. "Your eyes lie, the monitor tells the truth," he lets the class know, and later: "You have to have thick skin in this industry," he says, adding, "don't get in your head about it."
When critiquing the stylists work, Loots looks for balance and consistency. "If it's too much or too little, we edit," he explains. One of the main takeaways we get from Loots is that if you want to work backstage, you must be versatile. "You must be able to work with every kind of texture, and you must be able to create texture," he says. "If you want to get into fashion and editorial, you have to know how to work with all hair types—that's the biggest thing," he says.
The workshop condenses all of Loots' experience at FW and on photoshoots and delivers it to you, literally first-hand. It was impossible to tell that the Wella studio wasn't a real backstage—the excitement and energy were definitely the same. And thanks to the direction of Loots and Palu, it looked like SS18 was just as fierce the second time around.
[Images courtesy of Wella]