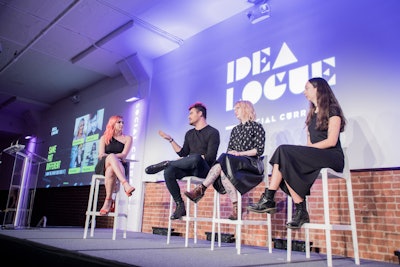 You should be posting! If there's one thing we took away from the a three-day crash course in social media, dubbed Idealogue, and one-day workshop on women's empowHerment—aka the Coterie, it's that there's no excuse not to turn likes into salon dollars. The jam-packed sessions featured a highly curated program of some of the best in the biz covering a diverse range of topics, from revolution, to saying yes, to the wage gap.
The stylist community is highly affected by social media trends, and because of this you have the potential to capitalize on what's going on in the digital world. One of the main takeaways of the sessions, was that you're customer is carrying you around 24/7. You can reach them like never before—you are literally in their pocket. From a posting schedule to getting outside your comfort zone, to developing the aesthetic of stylists you hire to fit with that of your salon, there is a strategy behind social media. If you aren't online already, dive into Instagram—just remember like that all good things, reaping rewards takes time. "Be patient," panelists advised, in one way or another.
Best selling author and change agent Seth Godin, kicked the event off with his Social Currency talk, which encouraged participants to focus on creating work that matters and the importance of knowing (and therefore reaching) your audience. For those who want to go further, the event also marked the kick-off of LBP's Social Media Magic Class, which will give students the tools they need to grow their social presence online.
Other notable speakers included youtube celeb Deepica Mutyala (@deepicam), Ursula Stephen (@ursulastephen), known for styling Rihanna and Kerry Washington, Jenny Strebe (@theconfessionsofahairstylist), of @theconfessionsofahairstylist fame, Gordon Miller (@gordnm), CEO, Hairbrained, Johnny Wright (@johnnywright220), educator and Michelle Obama's go-to hairstylist and Julius Caesar (@juliuscaesar) L.A. barber, Wahl education and artistic team member, to name a few.
To say the event was a success is an understatement; this success can be tallied just in attendance alone—over 400 salon professionals listened to the inspiration talks in NYC. In total the event proved the power of social reach; more than 500 stories were shared by 140 individuals—with a combined audience reach of 10.6 million. In total the event left more than 124 million impressions, at 1,200 posts of the event and 108,000 likes. You can reach millions too—just start posting!
[Image courtesy of Luxury Brand Partners]