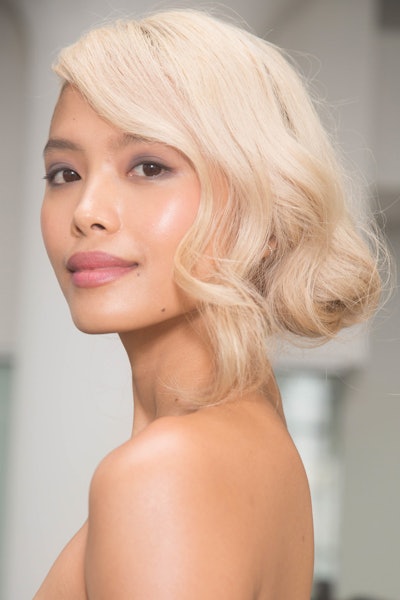 There's no one-size-fits-all for bridal, which Marchesa truly understands. To be inclusive to all types of brides, Key Hair for Moroccanoil, Kevin Hughes, sent three distinct looks down the runway. The looks belonged to one of two collections, Marchesa Notte, which Hughes describes as for a "younger, hip, more modern" bride, and Marchesa Couture, which is more traditional. The couture girl is "a little bit more sophisticated and classically beautiful," he describes.
Two styles fall under Marchesa's Couture umbrella. The first is a faux bob. To get this look, Hughes creates a glamorous wave at the very bottom of the hair—an elastic is added to keep it all in place. Hair is then rolled up and pinned directly to an anchor braid. Hughes adds in a smooth wave with texture at the bottom; the final look is adorned with flowers for a heighted whimsical feel.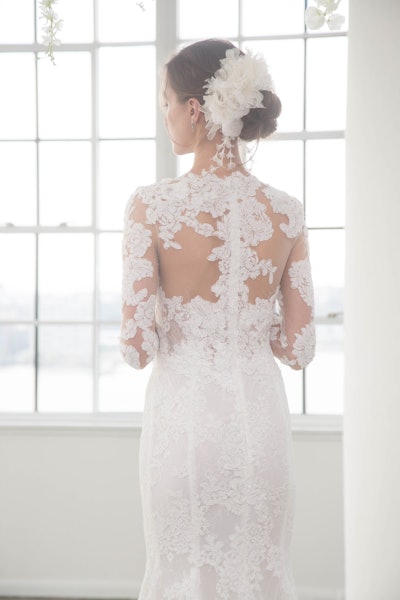 For the bride who pictures a princess wedding, we advise the upsweep. To transport models from the chair to the throne, Hughes creates a center part, though some girls are "slightly off center," he says of the intentional styling. For each, "there's a lot of texture in the hair," describes Hughes. All strands are pulled back into a wrapped bun. Hughes adds flowers underneath the hair, with some models commanding a veil, to further ground the style in a bridal tradition.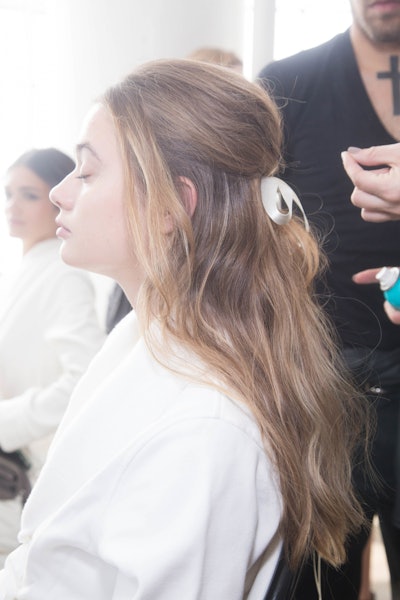 Are you working with a downtown bride? If so, channel Notte. The Notte look is relaxed; Hughes describes it as an "undone, broken wave." He teases hair at the crown, creates a center part and gathers strands in a white satin ribbon at the back, in a half-up, half-down style. "It has a little of a Bardot feel," explains Hughes of the overall effect. To make it even more fit for the cool girl bride, Hughes softens front pieces, adding extra texture.
Taking individuality into account on all fronts, there is no uniform product prescription, either. Hughes uses what works on each model, depending on her natural texture. "For girls with a lot of texture, we used a Hydrating Styling Cream to smooth out the hair," he explains. In all cases, however, Hughes and his team were sure to use Perfect Defense by Moroccanoil. The heat styling protectant works to guard hair in temperatures of up to 450 degrees; this was definitely necessary considering irons were used backstage. Hughes did use a trick to cut down on heat styling time, as best as he could. "We're using Luminous Hairspray Strong while we're curling the hair, so that we don't have to iron as long, he says. Hughes also makes sure to work in Moroccanoil Treatment Light, for "whenever we're trying to get rid of frizz at the ends." It's his go-to to finish every look.
Hughes' reminds us of our favorite thing about a bridal trial, as he explains his backstage Aha-moment. "I love seeing the whole completed look, when the girl is actually in the gown—it's breathtaking," he says.   
[Images courtesy of Moroccanoil]