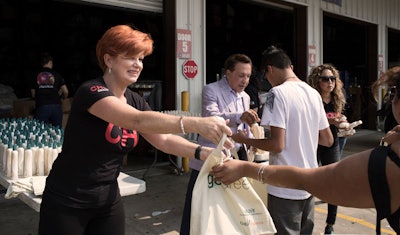 It has been a bittersweet summer to say the least! Farouk Systems hosted our largest and most successful conference to date from August 25th through the 28th. However, while our corporate team was in Cancun with our artists, educators and distributors from around the world, our home back in Houston, Texas and its surrounding communities faced devastation from Hurricane Harvey. 
We had 35 Farouk Systems employees devastated by the floods, including a few that are new mothers. Farouk and Rami Shami approved paid wages to those affected by the hurricane while they were out. We quickly activated a donation drive to raise money and necessary items to help heavily afflicted areas. In light of the devastation, we stood Houston and Farouk Strong and I believe our company is more bonded than ever as a family. We affirmed that we are here for each other – in good times and bad!
Our next plan of action was to help salons and neighboring communities rebuild. We have donated shampoo and conditioner to The Houston Food Bank, local churches and numerous community organizations.
We are partnering with AMCO stores to help stylists and salons get back on their feet and behind the chair again. Some of our own educators, including Melissa Reyes and Michelle Boudreaux, lost their entire salons in addition to their homes. We are assisting to get them back on their feet by providing tools, color and retail products. Farouk even offered his own house and our company's academy for them to work in if needed.
Our school department started a Cut-a-Thon program which over 19 CHI Schools have participated in to date and we are giving those funds directly to The PBA to help all stylists affected by Harvey and Irma. Furthermore, we are helping Lone Star Kingwood College (their Cosmetology School was completely flooded) by hosting 35 students in our CHI Academy so they can continue their hours and stay on course for graduation. Their instructors and students will have a home here at Farouk Systems.
—Lisa Marie Garcia, Farouk Systems, Inc. President of Innovation