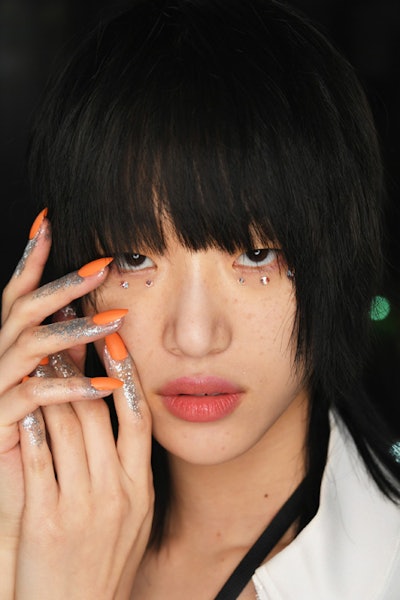 The anticipation of a Jeremy Scott runway beauty look is always palpable among editors. Why? Because there's typically a whacky element that seems unworkable in real life, yet you simply want to wear it—reality be damned. This time around, the makeup and nails reflect that desired break with reality. Case in point: Three rhinestones of varying sizes dot the lower lash line of the models' eyes. MAC makeup lead Kabuki says, "There's a futuristic narrative, but it's very funky. It's like a fun kind of futuristic. There was so much excitement in the clothes that I needed something kind of minimal to really tie in the makeup. We tried to pick these aurora borealis-like different shade crystals, something very simple but playful and a little bit out there. It's sparkle without transforming the girls too much." Lest you think he grabbed rhinestones willy-nilly, plenty of thought went into the selection. "Crystal clear stones looked too showgirl, so I chose colors that matched up to the girls' skin tones," he explains, citing smoky topaz as a top pick. Beyond the flash point in the makeup, the skin retains a dewy finish, achieved through MAC Studio Waterweight Foundation being buffed into skin with a soft brush for "realistic, lightweight skin."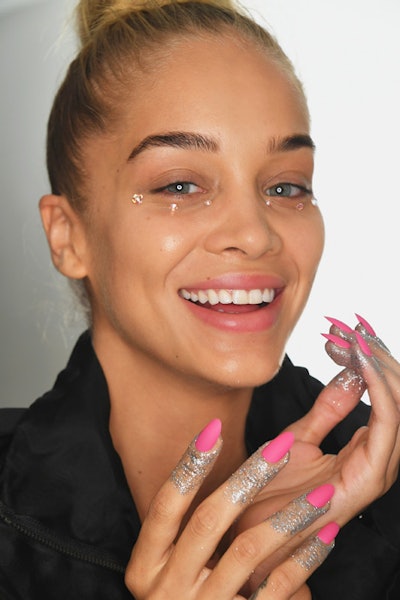 The nails, flashy in their own right, are reminiscent of "colorful comets with glitter trails to go with the out-of-this-world collection," says CND nail lead Miss Pop. The comets in this equation are the long, electric orange or pink nails (CND Gypsy, which will be part of the Summer 2018 collection, and Hot Pop Pink, respectively) that are either matte or shiny, while the trails are the fingers, loaded with cosmetic grade glitter. Miss Pop shares that she used spirit gum glue to affix the loose glitter, and then used a makeup brush dip to dab on the glitter in thick swaths near the fingertip, fading the glitter out and down the knuckle in a sparkling ombre. "You can definitely hold a drink with this look, but don't shower!" she laughs.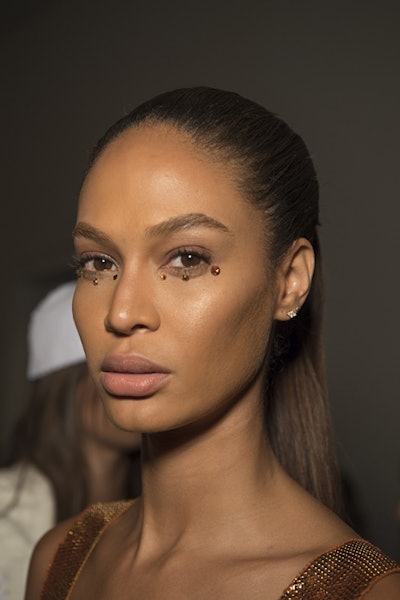 Hair is less space-age glitzy and more tuned into Earth-bound everyday realness. Wella and ghd hair lead Eugene Souleiman explains that he's giving every girl hair that speaks to who she is. "This season the statement is: There is no statement. The hair is relaxed and beautiful. I want every girl to look in the mirror and like the way they look, then leave the show wearing the look," he says. "You're going to see everything right here. You're going to see grunge, you're going to see beach babe, you're going to see a minimalistic ponytail, you're going to see center parts, you're going to see little hair updos, you're going to see a little bit of pink hair," Souleiman says, citing that this idea came about because its Scott's 20th anniversary show and the feeling is that everyone should be authentic. Star stylers for this wide range of looks include ghd Air Elite Dryer Professional and the Curve Classic Curl Iron, as well as Wella Professionals EIMI Stay Firm to lock in pretty much every look and Wella Professionals EIMI Glam Mist Shine Mist to highlight strands on the runway.
[Photos: Courtesy of CND and Wella]