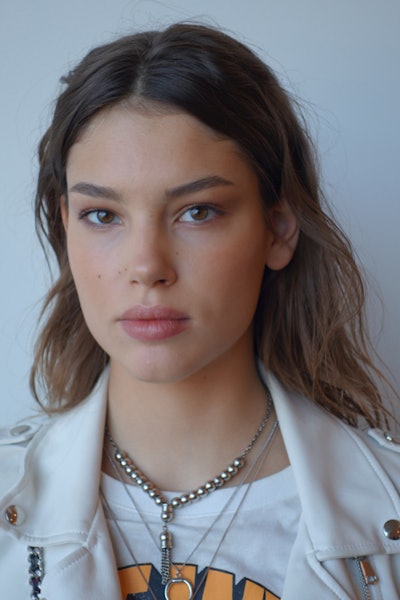 When Hellessy designer Sylvie Millstein envisions the woman who wears her clothing, she sees a woman who's free-spirited with a love for adventure. So, logic follows that the beauty muse is iconic supermodel "Lauren Hutton on a safari," according to makeup lead Gucci Westman. But rather than have the models' skin appear as though it's been ravaged by the a safari's arid climate, Westman drenches the eye area in moisture using SK-II LXP Ultimate Revival Eye Cream.
She explains of the luxurious eye treat, "It's great for using during runway shows because of the drying air-conditioning backstage and the fact that the girls are having their makeup applied and removed a million times." Westman also prepared her makeup look, which is a desert-perfect monochromatic palette of terra-cotta, using the Perfect365 Pro app. "It allowed me to play around with options and cut out a few steps. I showed Sylvie how the look could be toned down or amped up with just a few clicks," she says. "It opens a whole new door for makeup artists."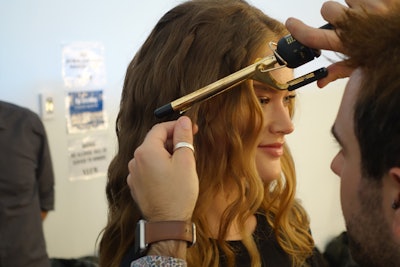 While skin ditched the realities of a desert adventure, hair struck the balance of when windswept meets super-chic. Label.m hair lead Matthew Curtis explains, "We want to mimic the relaxed feeling that comes through in the collection, but we also want to give the hair a bit of a dusty finish to play off the safari-esque idea." He preps hair with label.m Volume Mousse and then, using his hands, he rumples the center part back and forth to make a "loose, unstructured parting."
With Olivia Garden Double Clip Curtis sections hair in order to begin an irregular-patterned Marcel wave, spraying the midshaft through ends with label.m Hairspray to hold the loose waves. With tighter tongs, he finesses the irregular coils around the face and roots, pulling and twisting the curls to keep them tight against the head. Several passes of label.m Sea Salt Spray lend the necessary texture and grit without compromising moisture. To finish, Curtis spritzes label.m Texturising Volume Spray through the ends, saying, "This shouldn't look beach-y; it's more windswept, loose and effortless."
[Images by Karie L. Frost]