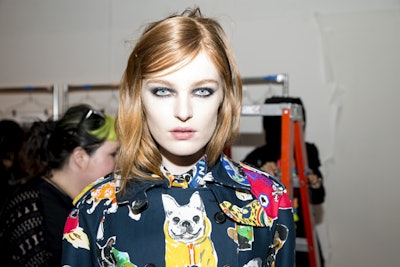 Libertine designer Johnson Hartig decided to reclaim his roots as a fashion force this season; after all, he was the first to make skull prints trés chic and has been endlessly copied ever since. And, as is his wont, the beauty look remains as "Libertine cool" as ever, without much deviation from season to season. It's dark. It's smoky. It's glitzy. It's deconstructed. It's punk.
But there are some tweaks, as evo hair lead Kenna proves backstage. "Even though we're doing 85 percent of the hair look we did last season, we added in a braid for some of the girls. But it's sort of hidden; we're deconstructing it so that you can't really tell it's there. Johnson hates braids; he feels they're too romantic, so this has to have a rough feel to it," he explains. That roughness is built into the hair thanks to evo Salty Dog Beach Cocktail Spray, which is rough-dried in, and Builders Paradise Working Spray, which he sprays over the braid as he's pulling out bits and pieces of hair. "We're also roughening up the texture with grit from evo Shebang-a-Bang Dry Spray Wax," he says, adding that the swooped bang that the girls' sport is achieved with the evo Spike 28 Nylon Pin Bristle Radial Brush.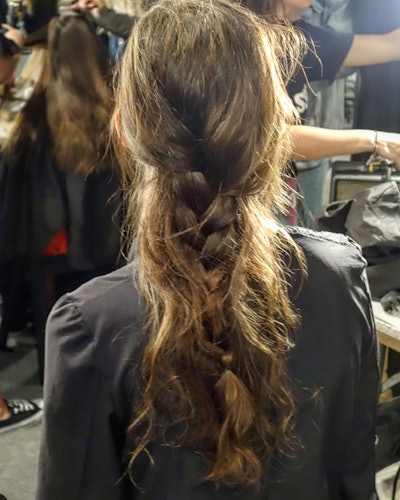 The makeup is decidedly Libertine as well—all smoky and sultry with a punk edge. "I wanted a blown-out smoky eye where the edges are very soft," says Too Cool For School makeup lead Katie Jane Hughes. "But I'm also placing a pop of silver (Too Cool For School Glam Rock Urban Shadow in #10 Metallic Chic) right over the eye using g my fingertip. It's like an effect, not a color. I want it to look like moonlight reflecting off the ocean." To add further luminescence to the eye, she taps on loose neon orange glitter in the inner corner of the eye, using Dinoplatz Lip Balm in Rabbit Food (also patted on the lips) as the adhesive. "I like this glitter because it shines green and orange. It's beautiful," she says.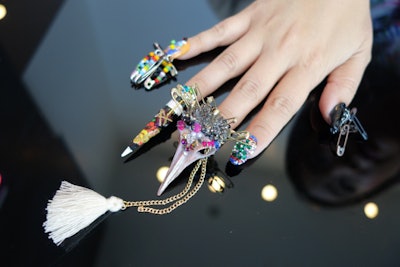 If the innards of pills pouring out and functioning lava lamps bubbling brilliantly float your boat, those are just two of the insanely cool nail art designs crafted by the CND Design Team. Safety pins and skulls of all types—rhinestoned and sculpted bird skulls among them—reflect the brand's DNA. Even underneath the nails' free edges receive an artistic bump. "We're used to 3-D art on the top of the nail, but I thought the space underneath deserved the same treatment," says CND Design Team member Tracey Lee. She calls the down-under designs "illicit hidden treasures," and explains that she spent 45 minutes per nail constructing the full design, including the sharp blade-like elements hidden beneath the nail tip.
[Photos: Courtesy of Too Cool For School, CND, Karie L. Frost]