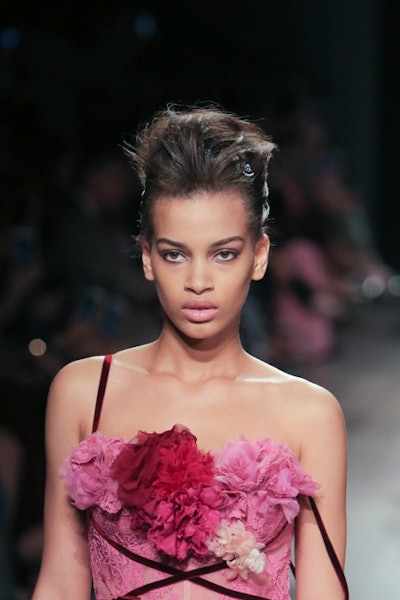 There aren't many true trailblazers of style these days, so it's fitting that the Marchesa muse is Aimeé Crocker, an explorer from the early 1900s who had a love affair with Japan and all of its beauty. "She had an affinity for layering necklaces and textures," says Kevyn Aucoin director of Global Artistry and Pro-Artist Relations Viviana Martin. She's part of the makeup team, being helmed by Gucci Westman, and is quick to point out that one of the star products being used is the Kevyn Aucoin Neo Elixir, a skin-prep serum set to launch in Spring 2018.
"It is truly an all-in-one," she gushes. "It will make your makeup stay on all day." A soft, smoky eye, brought to life in part by another not-yet-launched item, the Electro Pop Palette, pairs with a luxe mouth, which Martin says, "We're customizing by mixing together The Kevyn Aucoin Matte Lip Color in Resilient and Persistence and then dabbing onto the lips with our fingers for a softer, more diffused effect." Girls with darker skin tones forego this custom color in favor of the brand's cult classic Bloodroses.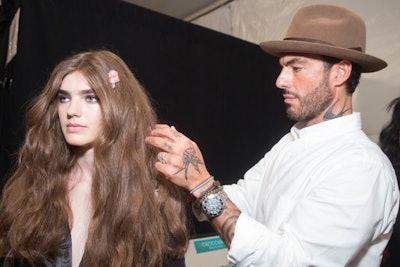 "Aimeé Crocker was known for her luxurious parties. Back then it wasn't typical to have her style," says Moroccanoil global ambassador Antonio Corral Calero. "She was such an empowering woman, especially for the early 1900s." To create a hair look built for this type of style pioneer, Calero crafts not one, but two hairstyles: a deconstructed French twist and a tumble of flower-strewn waves. For the waves, he says, "The idea is that the girls are walking through the woods and flowers are getting caught in their hair." To wit, after backcombing and teasing hair with long sprays of Moroccanoil Luminous Hairspray Medium between, misting the head with Dry Texture Spray to help lend some grit and creating broken waves by alternating the direction of his curling iron with each section he twirls, Calero places small flowers at random in the flossy, full style.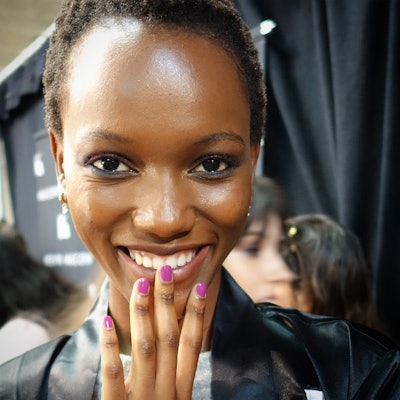 For the sky-high French twist, these same two products help conjure workable hold and intense texture, but some models require a little extra help from a mini crimping iron. "Adding the crimps at the roots helps thicken up the hair on girls with finer hair; it's easier to build up height," Calero asserts. 
And, because no style pioneer would be without a can't-miss-it manicure, a coat of OPI Don't Provoke the Plum dresses nails in vivid color.
[Photos: courtesy of Moroccanoil; Karie L. Frost]