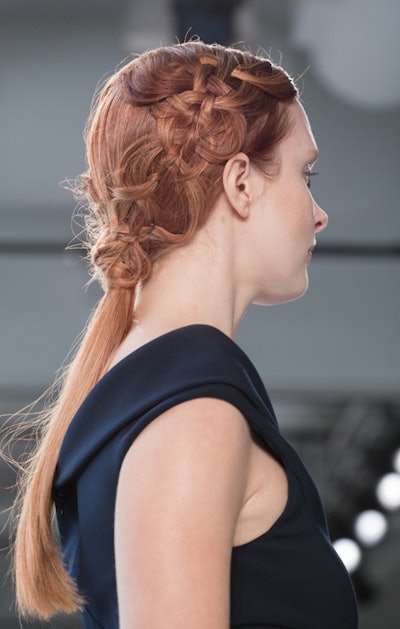 A large mood board, possibly measuring 10-feet in height, stands perched against a wall backstage at the Christian Siriano show. Tear sheets filled with flowers and swatches of fabric—mostly Technicolor jacquards and brocades—cover every inch of the board. Sebastian Professional hair lead Anthony Cole explains that the hair inspiration directly draws from Siriano's vision, clearly seen on this board: a psychedelic hallucination of what's inside the designer's fantasy greenhouse. "We always work off of Christian's inspiration. We're not being too literal, but I really like how the fabrics … " he points to the swatches, "… are bright, bold and almost look like plastic embroidery. There's this amazing 3-D quality to them." To mimic this idea, Cole crafts what he's calling hair "fencing": two four-strand braids that join together in a low ponytail. "But we're spreading the braids out, opening them up until we get the look we want, and then pinning them to create this latticework look," he says.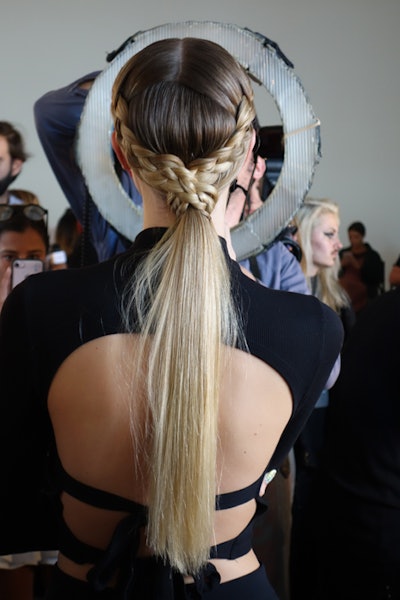 To achieve the style, he creates a square section of hair, starting recession to recession, and sets it aside for his braids. The bottom section is tied into a low ponytail. Cole applies Sebastian Professional Texture Maker to add strength and texture and Microweb Fiber to help give him the necessary grip and control for braiding. After creating each four-strand braid, which he weaves straight back to keep the silhouette snug to the head, he gently tugs on the sides of the braid, pulling it lightly apart to create the fencing. When he finishes pinning it all into place, he goes over the style with a heavy amount of Sebastian Professional Zero Gravity hairspray, pressing his hand against the braids to flatten them and further streamline the silhouette. "I like that you can kind of see the bobby pin ends [in the braids] on the runway; it really makes it look like embroidery," Cole muses.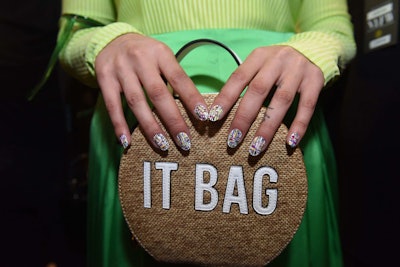 More embroidery effects show up on the nails, for which KISS Products nail lead Gina Edwards has created three different designs. "The tweed nails mimic a pattern seen in the collection," Edwards says, adding that she uses dry brush strokes as the base and then creates detail stripes on top using a striping brush from the KISS Nail Artist Took Kit. "The dry brush technique gives you more dimension," she explains. The two other designs, a floral pattern she creates using KISS Gel Polish in Lime Green with Envy, Hot Mama and Pretty Woman, and a color block diagonal look using Gel Polish in Lime Green with Envy and a neon yellow polish, reflect the designer's "love and obsession with greenhouses and gardens," says Edwards.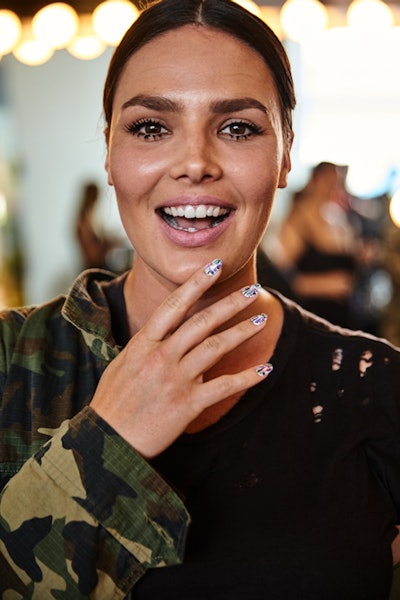 Makeup complements the psychedelic garden-fresh theme, with e.l.f. Cosmetics makeup lead Polly Osmond concentrating her efforts on dewy skin, achieved through strategic placement of e.l.f. Targeted Natural Glow Stick in Fresh Morning Dew along the top of the cheekbones, bridge of the nose and forehead, and a light patting of e.l.f. Liquid Highlighter across the high points of the face. Wispy lashes and a blushing lip (e.l.f. Velvet Matte Lipstick in Fuchsia Fantasy tamped down with a bit of concealer) complete the look—one of four "bundles" the brand created with Siriano inspired by his collection for a "See Now, Buy Now" deal that went on sale at elfcosmetics.com directly after the show. —Karie L. Frost