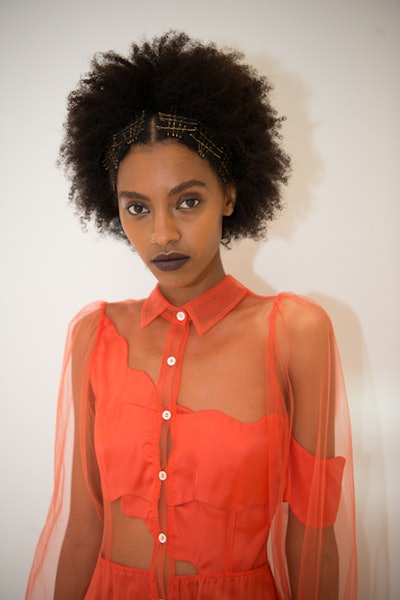 It's hard to describe natural hair just one way, but beautiful is a good starting point. The individual texture of women of African descent was celebrated at Maki Oh, where curls ruled. Nate Rosenkranz, the Key Hair Stylist, asked all models to wash their hair the night before the show and come backstage exactly as-is. "What we were going for was to really showcase the diversity in the texture of African women," he explains—girls arrived with their hair curly and down.
Using the hero product, Alterna Caviar Omega Plus Anti Frizz Dry Oil Mist, locks were given the conditioning shine needed to take them to the runway. Rosenkranz is cautious not to use any water-based products, as he doesn't want the hair to revert. The oil is specifically anti-frizz.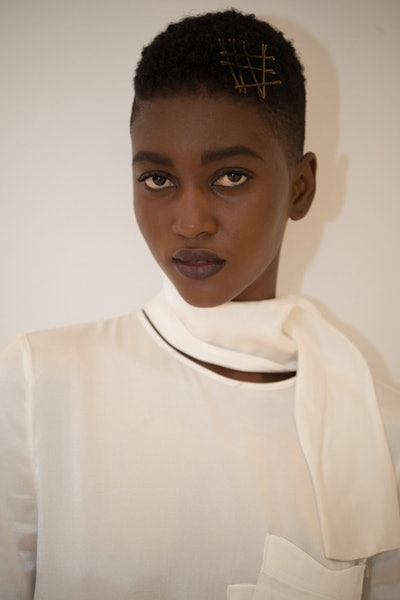 Because this is fashion week after all, there's always an element of pizzazz—and for that we turn to…the bobby pin. That's right, our go-to tool was crafted into a headband for the ultimate DIY way to hair accessorize. Bobby pins are arranged in sections of seven—seven is the designer's favorite number, naturally. To make the pins pop, the color contrasted with the girl's hair (i.e. black pins on blonds, gold pins for those with darker hair). The shorter hair girls don't have the full headband but still rock an arrangement of the seven pins over their left eye, to really ground the cohesive look. To try it yourself asap, simply arrange four pins back and three across, "so they kind of lock together and create a broach for the hair," describes Nate.
Get the Look:
Apply Alterna Haircare Caviar Anti-Aging Omega+ Nourishing Oil to enhance the natural texture of the hair.
Create a clean center part 2-3 inches from the hairline.
Secure each side with pins while creating a 7 stick pattern with the bobby pins. Place four pins horizontally back and use three bobby pins to intersect those four vertically. This should create a cross stitch pattern.
Slightly push the end of the pins closest to the hair line together to create a fanned effect.
Continue this process and create sets of 7 pins working down the hairline to create a headband effect.
Spray hair with Alterna Haircare Caviar Anti-Aging Omega+ Anti-Frizz Dry Oil Mist  for added luster.
[Images courtesy of Alterna]