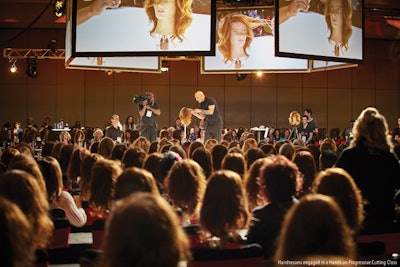 More than 2,000 hairstylists and salon owners will head to Orlando, FL in January 2018, for what promises to be a life-changing event. Matrix Destination brings together a lineup of top artists in the luxurious setting of Orlando's Loew's Resort, to provide an unparalled experience of education and inspiration.
Guest artists Tabatha Coffey and George Papanikolas will be joined by Matrix Global Artists and Artistic Directors—including Nicholas French, Nick Stenson, Danielle Keasling, Chrystofer Benson, Daniel Roldan, Dilek Onur-Taylor and Michelle O'Connor. The artists will lead a four-day session packed with two powerful mainstage presentations, six hands-on breakout classes—more breakouts than any other education event, and four classes tailored to grow your business.  The program also offers four, elective, hands-on classes, held in smaller group settings.
Among the most anticipated presentations are the Matrix Global Trend and Coffey's "Elevate The Salon Experience" on the mainstage; a special social media class with George Papanikolas and Instagram star Constance Robbins; advanced cutting and coloring classes and an inspiring Creative Color program that explores the latest trends in fashion color. For business-minded attendees, Coffey will present a "Destination Takeover" class; the noted Salon Summit group will offer business tips that drive profitability and Peter and Tess Millard will take their audience on an enlightening, 7-step journey through the salon.  Also this year, the Matrix Latin Expressions team, led by Matrix Artistic Director Robert Santana, will offer cut, color and styling education in Spanish.
It all starts with a high-energy opening night show and party, designed to kick off Destination in style.
"A strong community not only unites and inspires our creative passions, it elevates them," notes Martin Dale, Matrix Vice President of Education. "Matrix takes pride in empowering hairdressers with best-in-class education. We know that together we learn, grown, share, create, connect, elevate and inspire to build a brighter future."
For more information on Matrix Destination 2018, visit www.matrixprofessional.com/education/destination.
[Image courtesy of Matrix]