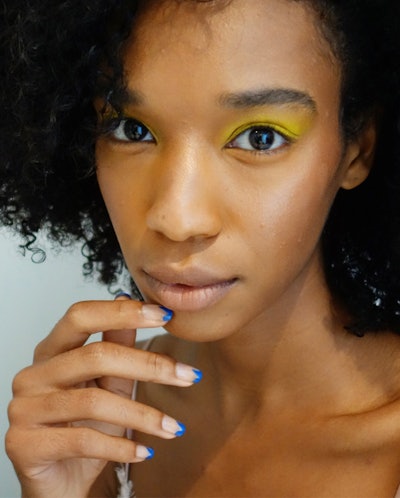 When the "urban jungle" fuels the beauty look, artists could do the expected—or, as L'Oréal Professionnel hair lead Mathew Morris explains, you can buck traditional thought and "not be too obvious." At the Novis presentation, going beyond the "expected" is, well, expected. Designer Jordana Warmflash, whose collection is heavy on jungle and floral prints, envisions a hair design that plays to the whirl of beauty goals she throws out backstage. "I'm looking for hair that's sleek, chic and polished, but also fun and feminine, sculptural and architectural. It has to have a nice softness to it, and not be too tough," she says.
For Morris, this means creating a botanical-inspired hair design that hits upon all of Warmflash's markers, but isn't too on-the-nose. "So rather than an obvious flower chignon, we're creating shapes like palm fronds or ferns and crisscrossing them into a basket effect along the back of the head," he says. To achieve this gorgeous feat, Morris first runs L'Oréal Professionnel Liss Unlimited Smoothing Cream from the mid-shaft to ends and pumps L'Oréal Professionnel Techni.Art Densite Thickening Primer into roots for texture and grip. "Liss will give us smooth ends, which we need to pull the hair through the elastics without getting it caught," he explains. A flat iron creates a silky sheet of glistening hair, which he begins separating into sections that he calls "flat straps." Each strap receives a heavy spray of L'Oréal Professionnel Techni.Art Infinium 3, "a workable spray that, if I get into a situation that sucks—and that has happened today—I can get out of it without the hair being resistant," Morris laughs. After he crisscrosses each strap flat against the head, he creates two small ponytails at the nape and sets the style with L'Oréal Professionnel Infinium 4. The last detail, a spray of L'Oréal Professionnel Techni.Art Shower Shine over the entire head, "gives hair that wax coating you see on leaves, or that bit of dew you see dripping off plants," Morris says.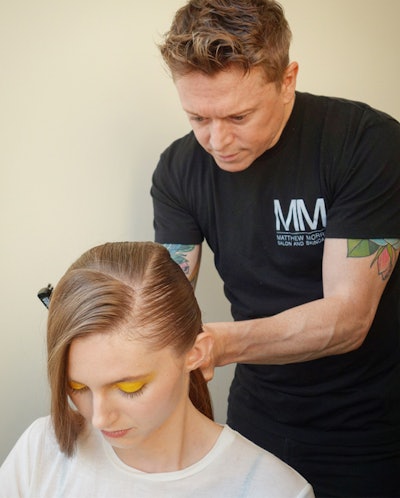 For NARS makeup lead Uzo, the boldness of the African floral prints in the collection call for equally bold color in the makeup design. "Jordana wanted yellow, so we based the look around a brilliant yellow eye," she says. New to NARS for spring 2018, Douro Single Eyeshadow, a matte dandelion yellow, fits the bill. To achieve concentrated color, Uzo bases the eyelid using concealer, then breaks up her eye shadow into a loose powder, which allows for a more pigmented application. Keeping the color dense near the lash line and sheering it out near the crease, she switches between NARS Eye Shadow Brush #40, Blending Eye Shadow Brush #42 and Small Eye Shadow Brush #50. "The best way to wear bold yellow on the eye is to pair it with luminous skin, cheeks and lips," she says, citing NARS Copacabana and South Beach Multiple highlighters as two skin go-to's. "We have such a diverse cast of models here, and the yellow works on all of them," Uzo proclaims, adding, "Anyone can wear it —and they should. Women are more adventurous and playful with makeup now, so I see yellow as a hot color for eye makeup for spring."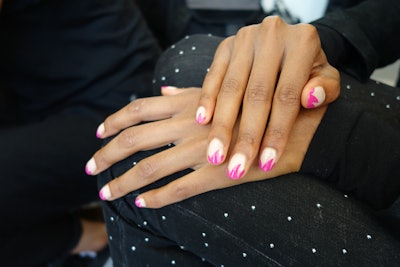 The nails also join in on the floral beat, with Christian Louboutin nail lead Alicia Torello explaining that her negative-space nail art design "ties everything together—angles, flowers, leaves and round shapes that are found in the collection's patterns." She bases the nail in Christian Louboutin Beauty Sweet Charity, a "very sheer, creamy, almost clear polish." For the abstract nail design that edges each nail tip, Torello uses a striper brush to create the edges and curves in either blue Baraboum or Pluminette (both bold hues are from the Christian Louboutin Pops Nail Colour collection).
[Images by Karie L. Frost]