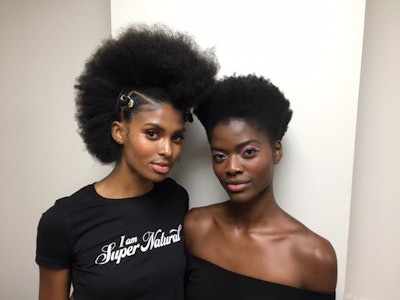 "Hair can dictate fashion," muses Michelle Breyer, Co-Founder of Naturally Curly and the brains behind the third annual Texture on the Runway show, devoted to carving out a space for curls on the catwalk. In this unique setting, hair is the star and clothes come secondary. As a testament to the power of shape, six brands are tasked with creating an array of looks from braids and afros to defined ringlets. "Texture isn't something to fix or hide," explains Breyer, "it's something to be celebrated." As she points out, curly hair is the majority; it definitely has a place on both the runway and in everyday life.
Versatility is key when dealing with all these looks. Marie Antoinette, Global Stylist for Cantu styles not only women, but also men and children. To make sure she's working with a cleansed palate she uses Cantu Apple Cider Vinegar Root Rinse. She creates a pompadour and cornrows on either the side, with a French braid down the center.
At Carol's Daughter it's a celebration not only of texture, but also Brooklyn. Brand founder, Lisa Price, was born and raised in Brooklyn and this collection is her tribute to the evolution of both the borough and beauty. All the Carol's Daughter girls were prepped using the Pracaxi Nectar line, which is made with Pracaxi oil that conditions as you style and provides all the moisture that curly hair craves.
For Crème of Nature, the natural look is so celebrated it's #Supernatural. Texture tells a layered story, explains Lead Stylist Pekela Riley, "We believe that every texture of hair has another texture story within it," she says. "We're taking 4C hair and adding detail to bring out another story within that." Sleek features such as Bantu knots, fabric and wire are added to afro hair to bring out details while simultaneously creating shape.   
Do your clients have pin-straight locks but major texture envy? Curlformers will literally do all the work for you—and them. The new way to curl requires zero heat styling, simply wrap damp hair inside the coil and air dry until you're beautifully coifed, or as the brand describes, "set it and forget it." The bohemian chic look is wearable for everyday and keeps kinks frizz-free.
Texture On the Runway was also an opportunity for Mielle Organics launched their Pomegranate and Honey line at the hair event; all of the products are only available at Sally Beauty. Lead Stylist Key Glover gave hair an artistic feel of texture with braids, up-dos, and a variation of texture all on one model. "I want people to see what this new product can do on thick, kinky, 4C hair," she describes. "We want our 4C girls to know they have options, and all that they can do."
At Shea Moisture elaborate styles rule. The inspiration stems from an avant garde look, that featured horns and a ponytail. This take is an update, but with joined braids. Beads embellish the style throughout, which is best described as a soft sculpture look. Yarn placed under locks creates a pompadour, and synthetic hair is intertwined with gold and brown to create the elements of this look, and let colors reinforce the stand out shapes.
[Images by Emilie Branch]