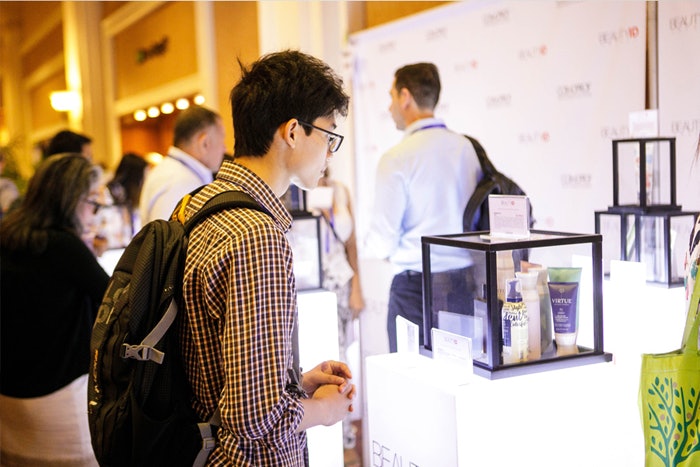 Cosmoprof North America (CPNA), in collaboration with Beauty Packaging Magazine, announced the winners of the first annual Beauty Innovation & Design Awards (BeautyID Awards) during the Cosmoprof North America 2017 event, as part of a ceremony held on July 10th, at Mandalay Bay Convention Center in Las Vegas. Recognizing creativity in package design, material and product formulation, the Beauty ID Awards were open to the industry at large with both suppliers and finished goods manufacturers applying. All cosmetic product categories (hair, nail, skin, color, personal care, fragrance and sustainability) across professional, prestige and mass market segments were recognized.
Each entry was evaluated and judged based on the unique combination of distinctive design and user functionality. The esteemed panel of judges included leaders from: Aware Products, Badger Winters, Barneys New York, Clemson University, The Estée Lauder Companies Inc., Fashion Institute of Technology (FIT), HATCHBEAUTY, Mary Kay, Mintel, MSLK, Stylus, ThisThatBeauty and Walsh House.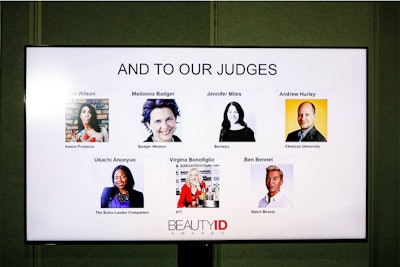 To learn more about the 2017 judges, click here.
A total of 12 awards were given at the inaugural ceremony. The judges selected one winner from each category as well as one Grand Award winner. An additional award, for Audience Choice, was selected by the public through online voting and over 3,500 individuals cast their vote. Unique to BeautyID, all winners walked away with business building prize package valued at over $10,000 from sponsors: Adduco Communications Inc., Empauer, Raise 3D, Stylus and The Brain Trust. Additional prizes were also provided by Beauty Packaging Magazine and CPNA.  
Among the prizes awarded is a custom trophy designed by Jon Michael Design, in collaboration with Syntax, and manufactured by Raise 3D using the latest 3D printing techniques. Looking to break the conventional trophy mold, the final trophy is a beautiful marriage of function and creativity. The rectangular design is made up of 11 moving square pieces that are stacked and placed through a rod that allows each piece to rotate indvidually so the user can interact and customize their own trophy. Each trophy features a silhouette of an icon representing its respective category and extruded typography on two sides. When all the "slices" are aligned, the unit reads as a tall rectangle and all type and imagery are perfectly aligned. But, when winners start rotating the parts, the images and typography take on new meaning. Every slight turn of rectangle will result in a different look. All of the units were 3D printed and then metallized by Raise 3D in a variety of colors and finishes. To see the full winner packages visit: beautyidawards.com/winner-package
All finalists were featured at the award winning B2B CPNA 2017 event, giving further exposure to award participants. In addition to onsite diplays, finalists were also featured on TV screens throughout the show floor and in-room for guests at Mandalay Bay and Delano hotel.
The 2017 winner lineup includes a well-rounded showcase of packaging and formulation solutions from small to large multinational companies who offer creativity and functionality to the growing beauty industry.
2017 Beauty ID Winners:
Formula Innovation: Cosmetic Contract Manufacturing- Amika | The Shield Style Extending Spray
Package Innovation: Color [Prestige]- The Estée Lauder Companies, Inc. |  Estée Lauder Double Wear Nude Cushion Stick Radiant Makeup
Package Innovation: Fragrance [Prestige]- Petalwall | Petalwall
Package Innovation: Hair [Professional | Prestige]- Virtue Labs | Virtue
Package Innovation: Nail [Professional | Prestige]- O'Nine beauty inc. | Nail Easy
Package Innovation: Personal Care [Mass]- Sphynx | Sphynx Portable Razor
Package Innovation: Personal Care [Prestige]- PreHeels | PreHeels Blister Prevention Spray
Package Innovation: Skin [Mass]- USA Cosmetics | G9 Skin White in Whipping Skin
Package Innovation: Skin [Professional | Prestige]- The Estée Lauder Companies, Inc. | Clinique Fresh Pressed Daily Booster with Pure Vitamin C 10%
Package Innovation: Sustainability- Johnson Printing and Packaging Corporation | Aveda/Tulasara Series
Grand Award Winner: The Estée Lauder Companies, Inc. | Clinique Fresh Pressed Daily Booster with Pure Vitamin C 10%
Audience Choice Winner: Biossance | Biossance
For more information on the winners and/or to stay abreast of the 2018 Beauty ID Awards  visit: www.beautyIDawards.com