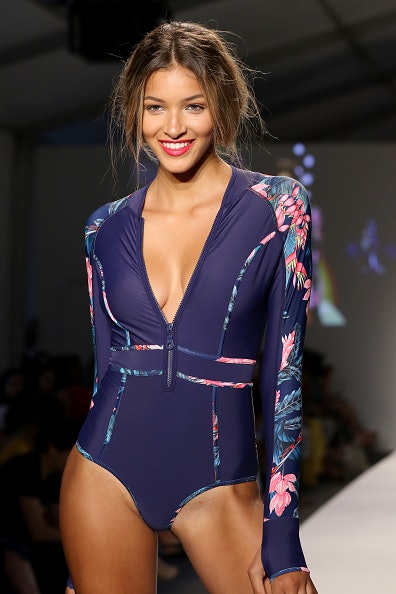 SUDZZfx was the official haircare sponsor of 10 Swim Miami shows during the three-day event July 20-23. Brian C. Hawkins led the hair team, working with each designer to find the right look for their swim collections.
Many chose to go with loose beauty waves, which is always a mainstay on every swim runway. Yet others were a little more daring, choosing adornments such as safety pins, rings and metallic studs.
At Hammock, texture was created with SUDZZfx Power Foam Mousse and a few sprays of AirPlay Designing Spray before using hands with a blow dryer for a rough finish. A large barrel curling iron added loose waves and Rowdy Paste was worked in through the crown and hair for a tousled texture.
RELATED: How to Get the Look: Adrien Flammier for Gottex at Miami Swim Week
At Duskii, texture was created throughout the hair for a tousled look using a generous amount or SUDZZfx Power Foam Mousse, AirPlay Designing Spray and a blow dryer. Hair was then brought back with fingers to a low ponytail with soft, loose side pieces that added movement as the models walked the runway.
At Kaohs, Hawkins used Epira Coconut Oil Treatment to make hair super sleek. A flat iron, combined with Epira, helped tame frizz. A single braid on each side of the head was adorned with metallic studs and safety pins. Epira was then run through the ends and crown to add ultimate shine.
[Image from Getty Images]