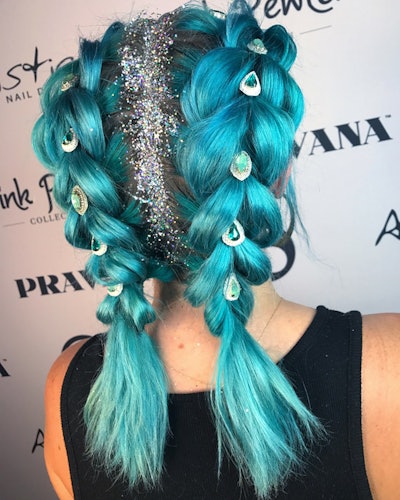 It was an exciting weekend in Chicago, where the festival vibes were going strong with the annual Lollapalooza concert! https://www.instagram.com/p/BXWX2SwlAtO/?taken-by=pravanaPRAVANA and COLOR COLLECTIVE members Presley Poe, Jordan Yanatos, Taylor Rae and Kayla Boyer joined Pink Pewter and Artistic Nail Design as Lollapalooza event sponsors in the SalonCentric Beauty Lounge. The SalonCentric Beauty Lounge, set up inside the festival, invited VIP attendees including artists and their guests to enjoy hair styling and VIVIDS extension applications. On the menu were space buns, braids and up-do's galore – THE festival styles of 2017!
RELATED: Candy-Inspired Hair by Kayla Boyer of PRAVANA COLOR COLLECTIVE
Armed with the festival must-have—glitter plus hair jewelry—from Beauty Lounge partner Pink Pewter, the PRAVANA COLOR COLLECTIVE served up the most on-trend styles for 2017. The looks were created using PRAVANA's styling line, including Super Shape Hair Spray, Lived-In Powder Potion and Detail Shine & Define Polish as well as extension pieces in a variety of VIVIDS shades.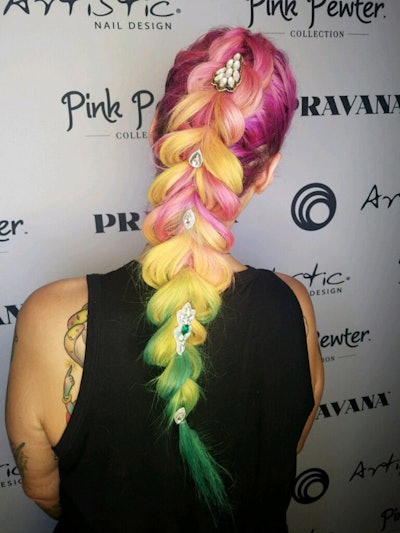 PRAVANA's NEVO Styling Collection is a complete range of products dedicated to preserving and protecting hair color while helping stylists create stunning, long-lasting styles with ease. The line comes in 100 percent biodegradable packaging with ingredients that are 100 percent vegan, gluten-free and toxin-free. For every sale of NEVO, 5 percent is donated back to City of Hope to support treatment and education for the fight against cancer.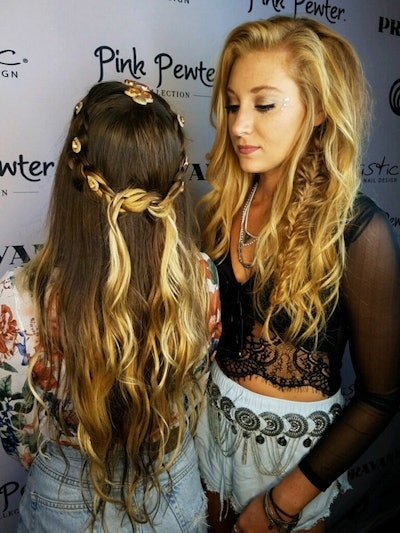 PRAVANA's VIVIDS Collection offers undisputed superior performance for the longest-lasting, most vibrant color PLUS the largest arsenal of creative colors available in the industry (34 total!).
[Images courtesy of the hairstylists and PRAVANA]