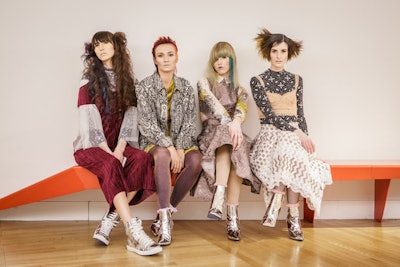 The Leo Passage Advanced NEXTGEN Scholarship is a once-in-a-lifetime opportunity to be a part of something big and have your voice heard in the industry. The scholarship is for licensed barbers and cosmetologists in the U.S. with 1-5 years' work experience.
Winners will receive an all-expense-paid trip to Chicago to showcase their creative talent onstage at the 2018 Beauty Changes Lives Event, held during America's Beauty Show (April 28-30, 2018). Scholarship awardees will have the opportunity to work alongside other NEXTGEN and top industry professionals from across the country, showcasing their work in a comprehensive runway show.
Mentors from Pivot Point International's Creative Education team will work side by side with the winners to ensure they are supported in developing a dynamic, successful runway show. Awardees will create cohesive image portfolios documenting their behind-the-scenes experience throughout the trip, and they'll gain valuable insight on what's needed to thrive among elite professionals in a competitive industry.
Scholarship awardees will gain new experiences, have a place to show off their talent, and continue their education to enhance their careers. After this creative immersion in beautiful downtown Chicago, winners certainly will return to their salons or barbershops with fresh and creative ideas for their clients, to provide the best services. They will experience firsthand what tomorrow's leadership in the beauty industry is all about and what their role may become in that industry.
"The individuals selected to receive the Leo Passage Scholarship will represent the true new spirit of the beauty industry. Pivot Point proudly supports the keen passion for education, creative curiosity and pride in our amazing industry that all who enter this scholarship competition," said Jenifer Eckstein, Senior Director, Global Marketing & Business Development for Pivot Point International, Inc. "Just by entering, you all have an amazing future ahead of you. Good luck!" added Eckstein.
Applications for the Leo Passage Scholarship will be accepted from August 21 through October 16, 2017 at www.beautychangeslives.org/leo-passage.
[Image courtesy of Pivot Point]