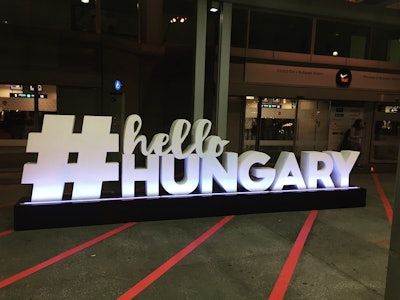 Recently, I had the honor of being invited on a special press trip with several other beauty editors to Hungary with Éminence Organic Skin Care for a tour of their organic skincare farm. Needless to say, I had a major "fan girl" moment, being a loyal devotee to the brand—which I was first introduced to when I was the lucky winner of the Éminence Organic Skin Care gift basket at last year's ISPA conference in Beverly Hills!
The chance to travel to Budapest, one of the most beautiful cities in Europe, and to have Éminence Organic Skincare president Boldijarre Koronczay as our personal tour guide? Sign me up!
An icon in the spa and skincare world, Boldijarre was the recipient of the 2015 ISPA Visionary Award, and he also founded the Éminence Kids Foundation, which is dedicated to helping sick children worldwide. A portion of proceeds from every Éminence Organic Skin Care product sold supports their cause, which is why I don't feel guilty when I shop their products—and neither should you!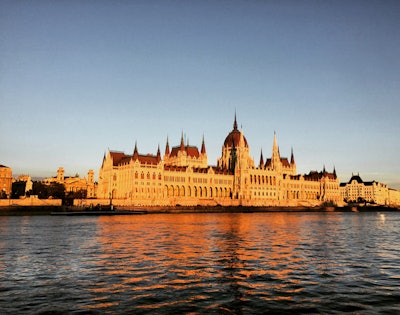 Upon my arrival in Budapest, our group was treated to a unique dining experience aboard Pannonia Gastroboat, a vintage restaurant ship where we enjoyed a variety of Hungarian dishes paired with stunning scenery that included front row views of Parliament while cruising along the Danube River. During our meal, Boldijarre shared his deeply touching personal story of overcoming childhood leukemia, which led to his lifetime commitment to organic living, as well as his inspiring journey to creating Éminence Organic Skin Care.
As a fun icebreaker, he asked each of us what our very first job was, which was a fun way to get acquainted with my fellow editors. Boldijarre's first job was as a massage therapist in Budapest; my first job was helping make body scrubs in the warehouse for LALICIOUS. Clearly this explains my lifelong obsession with skincare!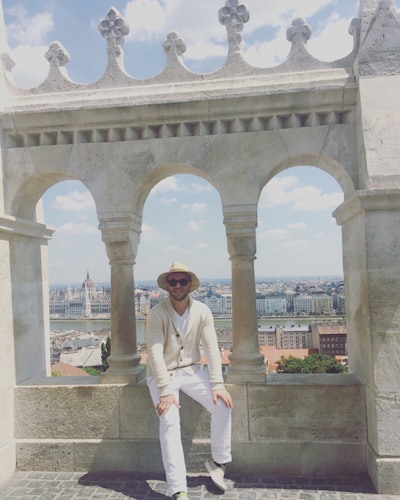 The next day, we were taken on a guided tour of Budapest, which included stops at various cultural and historical sites including the Royal Palace, the gothic St. Matthias Church, Parliament, as well as historic St. Stephen's Basilica and a stroll through Szabadsag "Liberty" Square Fountain. Boldijarre even pointed out his childhood home to us—I couldn't think of a better way to learn about and experience the local culture than with the founder of an iconic skincare brand!
The evening ended on a good note as we wined and dined together at Onyx, an award winning, Michelin-Star Rated restaurant, which showcases some of Hungary's finest culinary fare. Even after our dessert course, the restaurant gave each of us dessert "to-go" (boxed chocolate). To say I ate well on this trip was an understatement!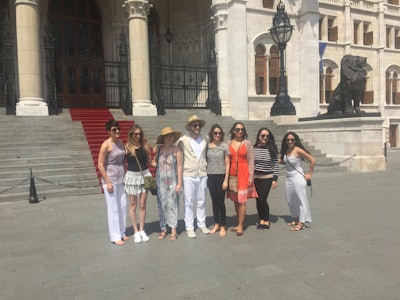 After starting the morning with Hungarian strudel (my new favorite food), we were given an extensive tour of Budapest's world-famous spas and historic baths, including the Gellért Baths, which has several indoor thermal pools along with an outdoor adventure pool and wave pool; as well as Szechenyi Thermal Bath, which is one of the largest spa complexes in Europe.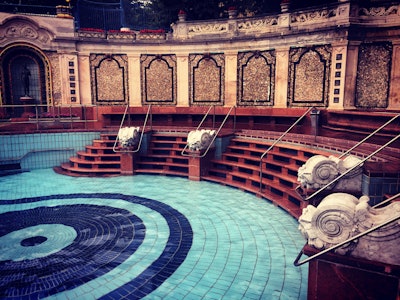 Unlike the spas in America, where you book a treatment and go for an hour, in Hungary the spa is an all-day thing. Business deals are made there, families go to spend the day, and you even see groups of elderly men hanging out in the pools while engaging in a game of chess. Here, the spa is a lifestyle—not a mere activity. I also made sure to stop in the gift shop and purchased one of their bathrobes so I could take a piece of the spa home with me!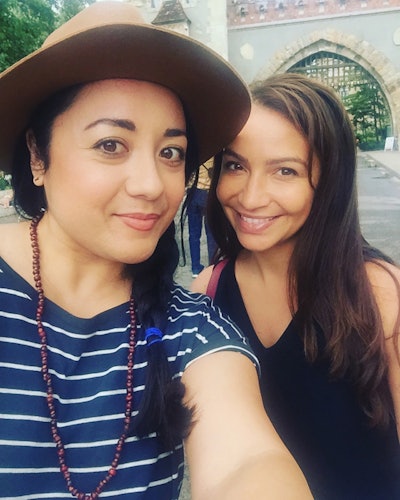 We also stopped by the grandiose Opera House, strolled through the largest park in Budapest, and paid a visit to Vajdahunyad Castle, which is a replica of a Transylvanian castle featuring a multitude of architectural styles, including Romanesque, Gothic, Renaissance and Baroque influence. I immediately felt as if I had been transported to the set of one of my favorite historical romance movies—it was a truly magical experience!
The afternoon and evening were to be enjoyed at our leisure, so I joined up with my fellow beauty editors for afternoon tea at the Four Seasons Gresham Palace. This iconic hotel serves tea everyday on an elegant Herend porcelain china set (Herend is famous all over the world for its beautiful, luxury porcelain that has been a favorite among royalty since the 1800s). We dined on an assortment of savory scones, tasty teas, and some good ole' Veuve Cliquot to top it off!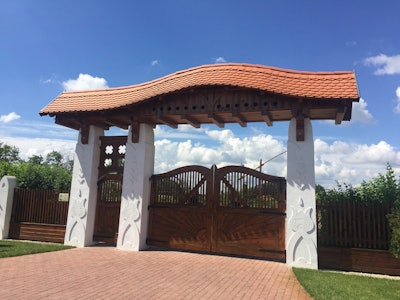 Finally, the moment we'd been waiting for had arrived: it was time to visit the Éminence Certified Organic farm on our last day of the trip! At this award-winning heritage landmark, which is located in the countryside, we had the opportunity to see the different certified organic ingredients that go into the Éminence Organic Skin Care products, among them the famous stone crop, lavender, rhubarb and more.
The farm's mission is to enhance one's natural well being by growing certified organic ingredients while providing education, healing the earth and honoring the brand's Hungarian roots and traditions. Boldijarre also educated us about traditional Hungarian architectural elements including the wood-burning lángos oven, thatch-roof chicken coop, the restored, century-old grape press, hand carved wooden gates, and more.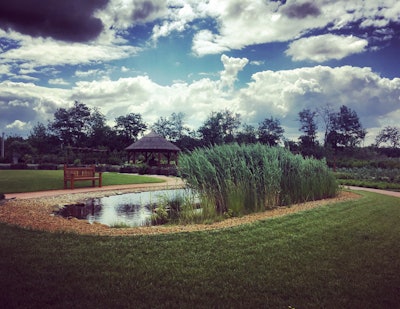 Other highlights included a lily pond (my name means "water lily" in Sanskrit so I felt a special connection to this), a traditional water well, flower beds and compost beds. We even got to sample some of the fruits of the farms labor, like red currant and raspberries!
The only thing missing? An Éminence Organic Skin Care gift shop (hint, hint, Boldijarre!) But you can easily stock up on products by visiting your local spa retailer. To find a spa near you that offers Éminence Organic Skin Care products and treatments, visit eminenceorganics.com.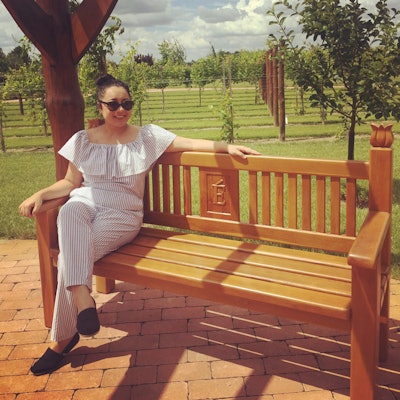 I mentioned to Boldijarre that the farm was so beautiful it looked like a place where I'd have my dream wedding. Then he surprised me by mentioning that they have hosted weddings in the past! (Destination wedding, anyone?)
More good news: the farm offers free tours in the spring and summer. To plan your next visit , check out eminenceorganicfarm.com.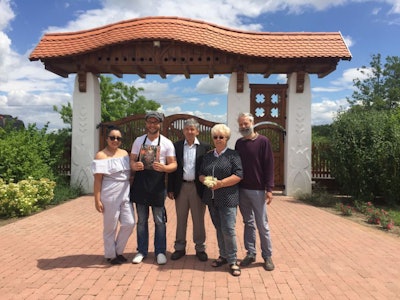 "I was truly honored to bring our spa industry friends, media partners, top beauty editors, esteemed journalists and team members to Hungary to visited the Éminence Certified Organic Farm, experience Hungarian spa culture and learn about the roots of Éminence Organic Skin Care," said Boldijarre. "From the most iconic sites in Budapest, to traditional Hungarian dining, to the knowledge that you can actually heal the earth (and in some cases, leave it a better place than you found it) through organic farming, this trip was extraordinary and memorable. We were able to see, touch and even taste the organic ingredients that go into the creation of our products. I hope that everyone who joined this once-in-a-lifetime trip fell in love with my home country, Hungary!"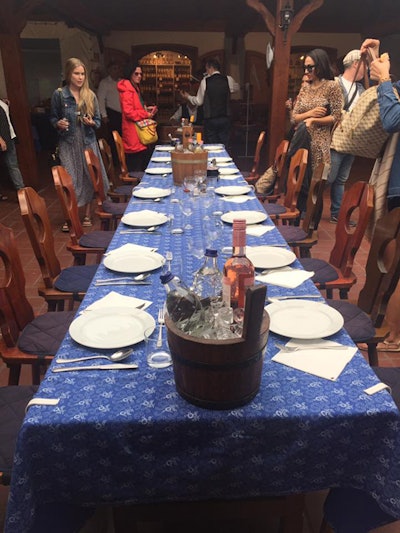 After leaving the farm, Boldijarre treated us to lunch at Tanyacsarda, a Hungarian restaurant and cowboy ranch, where we feasted on traditional fare like goulash (a tasty meat and veggie stew). Afterwards, I spent the rest of my evening relaxing in my stunning room at the Aria Hotel, an elegant, music-themed hotel that was named the #1 hotel in the world by TripAdvisor!
I managed to fit in a spa treatment before packing for my early flight home the next day, and I made sure to do an Éminence face mask to keep my skin fresh and hydrated from traveling! I was sad to leave Budapest, but it has officially earned a special place in my heart, and I will cherish these memories for the rest of my life. I'm definitely looking forward to visiting this beautiful city again in the future, and I'm an Éminence fan for life!
Many thanks to Boldijarre Koronczay, Jessica Timberlake, the entire Éminence team, Kristina Katsoulas and Pierce Mattie Communications for arranging this amazing experience for us!
[Images by Kamala Kirk]