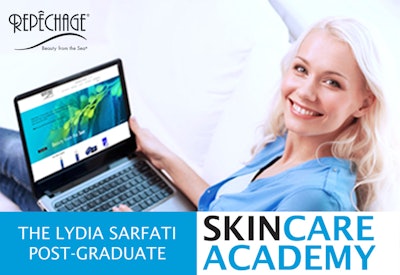 Repêchage® Professional Skin Care is expanding their world-class Lydia Sarfati Post-Graduate Academy! They're offering free online education—available to all licensed beauty professionals. The webinars last approximately 45 minutes followed by a 15-minute Q&A session, giving viewers an opportunity to revisit any topic or introduce new ones. All registered attendees may access it for future viewing, in addition to being eligible for special offers.
By offering free online education, Sarfati has broken down many of the barriers such as time and distance, that hold back prospective students from attending classes offered at the Repêchage headquarters located in Secaucus, New Jersey.
Each webinar will focus on a specific topic related to seasonal skin issues your clients may be facing at the time. The summer series kicks off with a webinar on July 17 on oily problem skin. Close to 85% of people will experience oily problem skin at some point in their life time – how can estheticians help? In this hour-long interactive section, we will discuss how to help clients experiencing oily problem skin with the Repêchage Hydra Medic Facial and at-home collection. In August, we will discuss how spas and salons can transform waxing services into a relaxing experience to help clients want to come back time and again.
RELATED: Repêchage Founder, Lydia Sarfati, Muses on Love, Seaweed and her Lifelong Beauty Obsession.
Sarfati's long-standing passion for education stems from her belief that education is not destination, but a journey. "Education fuels my passion! As I've said before, education is power, and it gives me the most satisfaction to help others become stronger and more successful. I consider it an honor and a huge responsibility to give estheticians the tools they need to improve their lives." It is this guiding principle that motivates her to continue to teach, whether it is at the many tradeshows she attends every year, her worldwide training seminars, and the Lydia Sarfati Post-Graduate Academy.
The Lydia Sarfati Post-Graduate Academy has long been a destination for the industry's top talent to further their Repêchage® brand education. It gives students an opportunity to learn the exact methods and techniques which have been instrumental in Sarfati's personal success as a master esthetician.
Students can begin enrolling in online classes now and registration can be located here.
[Image courtesy of Repêchage]