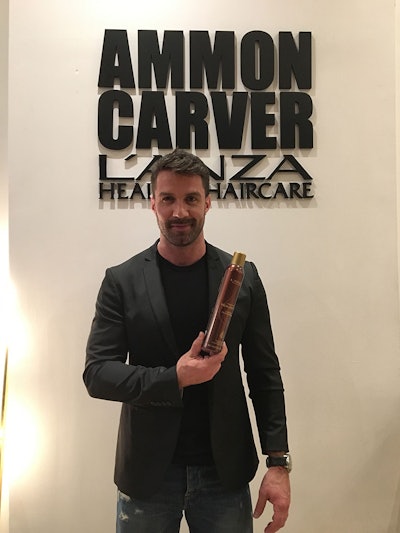 L'anza is proving just how dedicated they are to you! The healing haircare brand held an event at the Ammon Carver Studio salon in New York in honor of Hairstylist Appreciation Day on April 30th–so mark your calendars and make sure you celebrate yourself! To express their gratitude and say thank you, L'anza invited stylists on an insider's tour of all the products, hosted by Carver himself.
 "We're the only brand on the market that can literally claim that we can heal the hair," Carver explains of the line. "It all comes from the technology—we can go deep enough into the hair, and deliver the quality ingredients that will be able to repair." However, L'anza is more than just the measure of its products. The culture of the brand is Believe Inspire Grow, which Carver says is the most important part about the company to him. It's easy to see why L'anza honored stylists for Appreciation Day—putting you first and giving back is part of the company policy!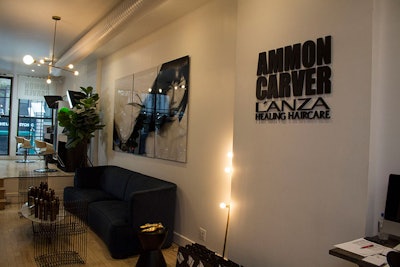 "In order to be successful as a hairdresser, it's a lot more than great products, or cut and color techniques, it's about the relationships you have with people," continues Carver. "We make choices all the time to align with BIG purposes and BIG things, like doing haircuts for children living in Mumbai or updos for kids with special needs for their prom. Partnering with stylists, who are using their skills to give back on a bigger scale, is for me what sets L'anza apart, independent of our great products. It's our BIG mission to help hairdressers believe in their ability to change the world," he describes. 
With that being said, Carver talks us through some of the brand's select products. Launching next month, L'anza is excited to introduce the latest addition to their Healing ColorCare line, the Lanza Healing ColorCare Clarifying Shampoo. The daily clarifier uses the brand's Flower Shield Complex, which protects color and corrects any trace of corruptors, from "swimmers green" to "well-water orange." As Carver explains of the tech, "just like flowers don't fade in nature, neither will your haircolor." To achieve this, it removes all metals and debris from strands, making it the answer to summer hair "You can use it everyday and be confident you're not going to lose your color," vouches Carver. As an added bonus, the ColorCare line also adds body, ideal for clients who crave volume and bounce. 
Of the key favorite L'anza products already on the market, is the Keratin Healing Oil Lustrous Finishing Spray. This is the only hairspray Carver will allow to be used on anyone who is about to be photographed. This is because it gives lasting hold without sacrificing shine. "Hair needs to look shiny, healthy and healed, and this is my go-to hairspray for that," he explains. 
With the Keratin Healing line, you can make clients feel like royalty before they even approach your chair. The Keratin Healing Oil Shampoo and Conditioner are Carver's favorite on the market—this is a bold statement. He describes using both as a "decadent experience," especially because of the aroma. The duo has such an amazing smell, that L'anza even created a hair perfume based off the scent to keep hair smelling super fresh—even if it hasn't been washed!
One of the newer (now much loved) L'anza staples comes courtesy of the Healing Style line, which includes the Dry Texture Spray, Sculpting Paste and Brilliant Texture. The packaging has recently been revamped, going from silver to a sleek and sexy black and white, that Carver admits he loves. Of all the products Carver offers clients, Dry Texture Spray is the bestseller in his salon—this is probably because it creates the look of the moment. "It's for any of those girls that like to give their hair a little beach wave," he says. It also functions in the vein of a dry shampoo as it has an oil absorbing quality, which will allow clients to extend time between washes. Another recent addition, Brilliant Texture is equally efficient for men's grooming as it is for finishing braiding details (another must for the on-trend client). The product is also malleable and can be used differently depending on its temperature. "If you warm it up in your hands, it's more slippery," he shares. 
A favorite for colorists—you can mix it into your color without having to adjust the formula—is the Healing ColorCare Color Preserving Trauma Treatment, which creates a buffering quality to the color. It will condition while you're highlighting, "without having to up the developer," Carver says. It's also works wonders if you're performing a backcomb balayage technique, during the tedious phase of having to remove the backcombing. This is because it acts as a detangler and offers hair a treatment at the same time. "It's a double whammy with Trauma Treatment," Carver enthuses. The product is available for retail, and encouraged for any customer with compromised locks. Recommend this product in replacement of their everyday conditioner for a more intensive repair. 
Also from the Healing ColorCare range, is the Color illuminator—one of four of the brand's new color attach system products. This is a must-have for clients who are addicted to having their hair dyed. After various color services, the cuticle layer becomes raised, which Carver warns, "can create a fogged vision, where the color doesn't look as rich or intense." Again, this is because the cuticle has been blown open and raised from constant processing. But, as you spray the illuminator, it renders the cuticle layer relatively invisible, so you can see your color truer and keep it salon-fresh between visits. 
To celebrate Hairstylist Appreciation Day treat yourself and your clients to haircare that heals! Visit Lanza.com for more information about any of the products or the brand.
[Images courtesy of L'anza and Emilie Branch]