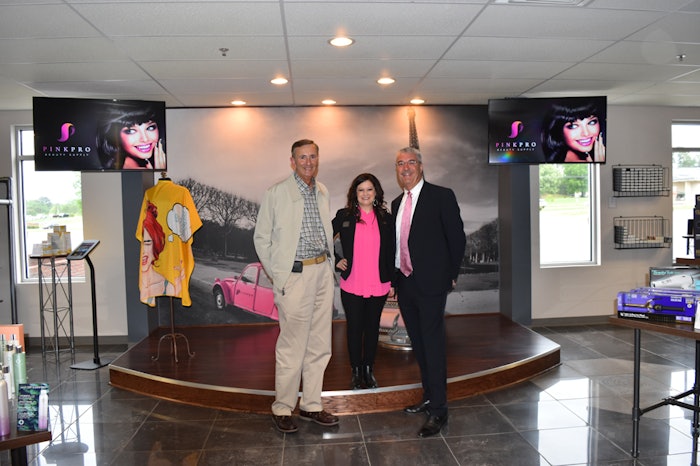 PinkPro Beauty Supply, a Houchens Industries company, opened its doors and welcomed all licensed beauty professionals to its Grand Opening in Paris, Tennessee on Monday, May 1.
Attendees gathered around as PinkPro Beauty Supply President, Ed Jerger welcomed everyone to the celebration. Then Houchens Industries President, Spencer Coates, sanctioned the event by cutting the pink ribbon during the ribbon cutting ceremony. Attendees were then invited to enjoy refreshments, preview the vast array of product offerings and participate in product demonstrations and facility tours.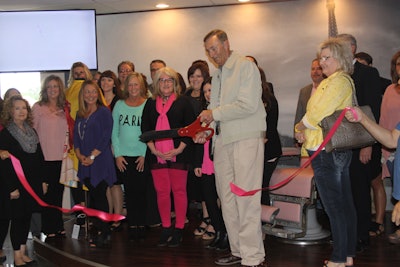 CND Education Ambassador, Maribel Jimenez, was in attendance, showcasing the new nail color collection RHYTHM & HEAT SUMMER 2017. Maribel manned a Seasonal Trend Playstation where attendees participated in demonstrations and on-demand Q & A sessions featuring the latest product offerings and nail styles from CND.
Other product demonstrations included MOD Clean Salon Disinfectant Pods and Make Me High 4-in-1 Hairspray, represented by Missy Madia of VNC Sales. Tammy Printi with CK Mabadi and Partners was also on site promoting the Parodi Professional Care products.
Beauty Professionals were encouraged to register at the PinkPro Beauty Supply website and take advantage of the special promotions offered all day long. iPad kiosks set-up throughout the store front were available for beauty professionals to register and place orders to be fulfilled during the event.
[Images courtesy of PinkPro]