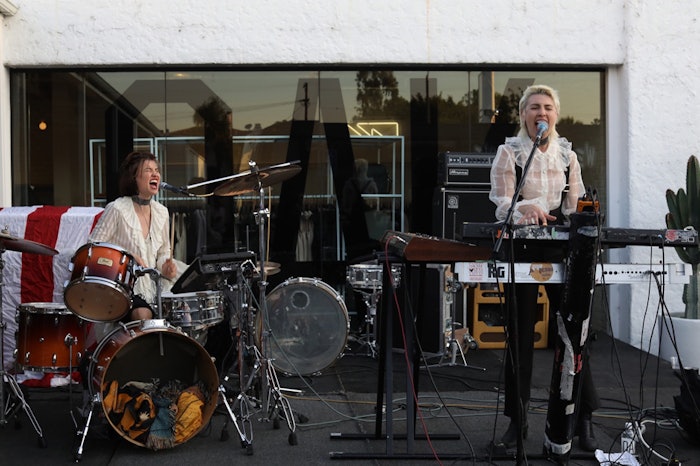 This April, Best of New York colorist and celebrity hair artist, Chelsey Pickthorn, made her national debut as a hair educator and ambassador for Davines. She has been leading two-day stylist education workshops in six US cities and Vancouver, and the last workshop will take place in Denver from April 30 to May 1. The tour has been focusing on a new concept of #slowhair (transformative hair painting and shaping).
Pickthorn is the name of Chelsey's salon in Brooklyn where she and Creative Brand Director, Jocelyn Simone, have been hosting Color Me Bushwick for the past four years. Pioneers of a movement that pairs emerging bands with hair/style makeovers under Chelsey's guidance, CMB takes place annually the first weekend of June, bringing together over 30 bands, live art installations and brand activations. The duo began by giving their headliners makeovers before their sets and helping to bring emerging acts from the shadows and into the spotlight. CMB's first year headliners proved a huge success with the boom that followed Brooklyn's own Sunflower Bean, whose faces have graced the pages of Rolling Stone and whose release, "Human Ceremony," was voted one of the best albums of 2016.
Chelsey and Jocelyn conceived the idea to use CMB as a platform for content creation and artist development for both musicians and hairdressers. The team on the We Color Live tour is comprised mostly of women who are leaders in male dominated industries. In addition to music and hair education for Davines stylists, they will produce short shareable content on how to have a sustainable tour life; focusing on staying healthy, conscious and the importance of wellness in beauty rituals. Hairstylists, colorists and local musicians, along with and local brands and businesses who collaborate with the tour, will receive press images and videos helping to promote their independence and their craft.
Speaking to the need for this type of event, Jocelyn Simone said, "In these times of heightened social justice, we want to make it as easy as possible for the creators of this generation to be heard. We Color Live provides a platform for artists to amplify their message."
[Images courtesy of Davines]