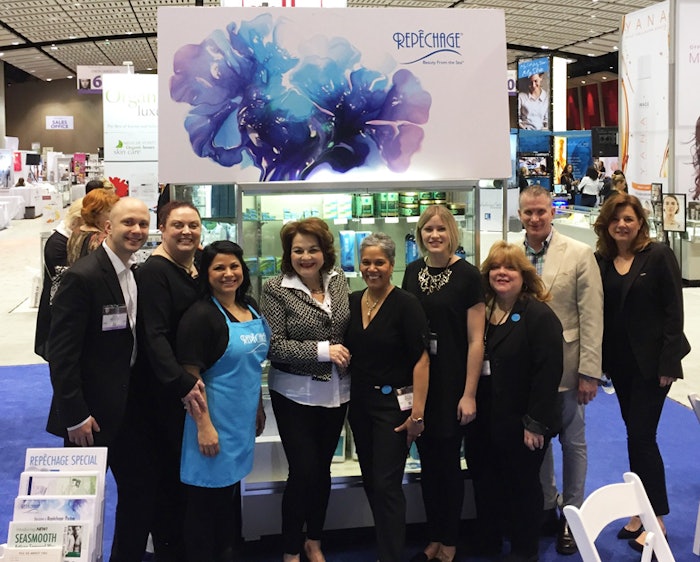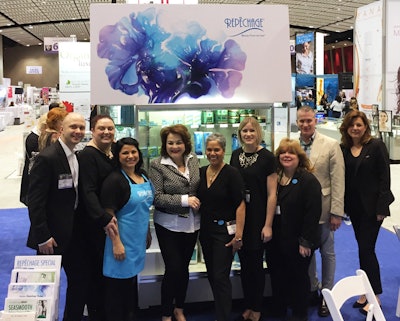 Straight from IECSC New York, the Repêchage team, including Repêchage CEO and Founder, Lydia Sarfati, headed to IECSC Chicago, co-located with America's Beauty Show.
Before kicking off the three-day show, Sarfati was invited as a guest and speaker at Cosmetologists Chicago Board of Directors meeting, where Repêchage sponsored deserts for the event. Industry professionals listened to Sarfati speak about the success of the global skin care company, and were introduced to Repêchage's newest unique, facial concept and at-home products: Repêchage FUSION™ Express Bar and Spa Masks and Repêchage FUSION™ Face Masks.
This new treatment  from Repêchage utilizes the best ingredients from earth and sea and feature four unique facials: FUSION™  Matchafina Facial, FUSION™  Chocofina Facial,FUSION™ Vanillafina Facial and FUSION™ Berryfina Facial. Each facial combines key ingredients such as MATCHA, CHOCOLATE, VANILLA and MIXED BERRY with Repêchage's exclusive, world-renown Repêchage Laminaria Digitata seaweed, rich in essential vitamins, minerals and amino acids. Together they create a relaxing facial treatment that can be used on clients of all age and skin types, as it provides multiple skin benefits while stimulating the senses with wonderful aromas.  Like all of Repêchage's signature facial treatments, each step of the facial is a uni-dose preparation only opened and used at the time of the application, allowing for hygienic and efficient inventory and cost control.
To compliment this facial treatment, attendees were introduced to the new Repêchage FUSION™ Face Masks. These luxurious clay-based face masks utilize various clays, including Kaolin, Diatomaceous Earth and Illite, along with the same delectable ingredients used in the professional treatment allowing clients to get a spa spa-like experience at home. The collection includes FUSION™ Chocofina Moisturizing Mask, FUSION™ Matchafina Cleansing Mask, FUSION™ Pumpkinfina Multivitamin Mask  and FUSION™Berryfina Brightening Mask to satisfy every skin need.  Each jar holds enough for ten applications, and can be enjoyed two to three times a week.  Clients can find a favorite or multi-mask different areas of the face with various combinations of the collection for a customized facial experience.
Repêchage also took part in education at this year's show. Serving as Chairman of CIDESCO Section U.S.A, Sarfati hosted two CIDESCO classes for show attendees. In her first class, "The Art of European Facial Massage" Sarfati lectured about the art and science of classic facial massage movements including Effleurage, Petrissage, Tapotement, Friction, Vibration and Eastern movements, such as Shiatsu.
 
In Sarfati's second class, "Younger-Looking, Beautiful Skin" Sarfati shared how environmental exposure, genetics, hormones and lack of sleep can affect skin aging, as well as the 10 best ingredients for dark spots, fine lines and wrinkles.