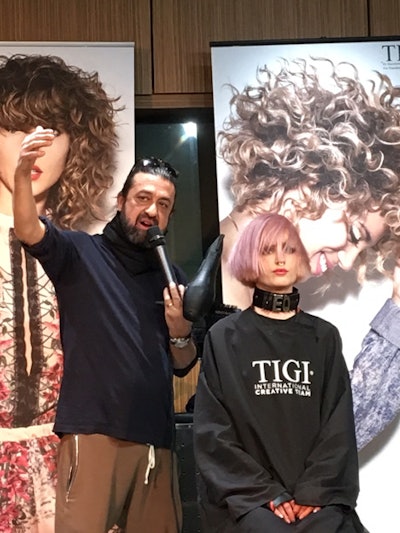 "As hairdressers, we need to challenge ourselves constantly. What we do today is old tomorrow," Anthony Mascolo, TIGI Founder & Artistic Director, tells an audience full of stylists at the brand's Behind the Collection event. This is obvious even without an explanation; the SHIFT Collection is a testament to this type of thinking. The TIGI Team has truly outdone themselves in creating the fully fleshed looks that comprise the 2017 collection. TIGI has literally created an anthology—there is a hardcover book of no less than 200 pages that showcases every cut, color and style seen in SHIFT.
The SHIFT Collection was born out of the time we live in, which is right-now, in the moment, fast-paced, quick to change and social media-centric—with a strong focus on individuality. Above all else, SHIFT is about being distinct—specifically, the client's need to be insta-ready in a flash, with the stylist making sure they stand out. As stylists, Mascolo muses, it's up to us to make it happen for our clients, daily. "Things change so quickly, hair is like fashion; what's new today is old tomorrow," he explains. "As hairdressers, it's about getting a good grip on all techniques and all kinds of styles, so we can make someone feel individual and make them feel great," he pauses and echoes our behind the chair bottom-line mantra, saying, "What it all boils down to is making someone feel great."
Top TIGI talent from around the world fill the loft-like, impossibly chic TIGI New York Academy. Each makes their way to the stage in teams of colorists and stylists, recreating their coolest "grunge, post-punk and sci-fi" inspired looks on live models for the ultimate how-to. Featured stylists include, Philip Downing, TIGI UK Academy Creative and Education Director as well as Joel Torres, TIGI Creative Director with colorists Richy Kandasamy, US Technical Director; Renee Valerie, US Technical Education Director, and Brian Adelman, Academy Technical Educator & Model Coordinator demonstrating their most dimensional signature hues.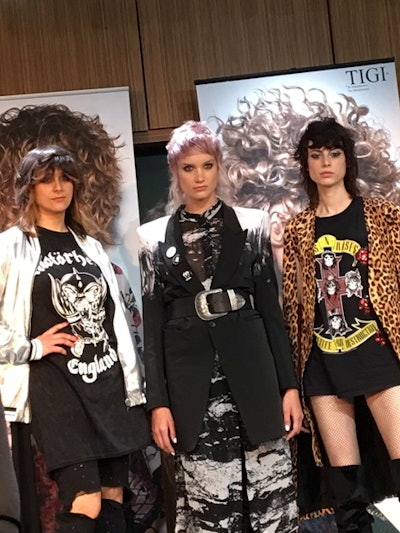 One of the main takeaways of SHIFT is how crucial it is for color and cut to work together; they are the ultimate companions on the road to fab. For TIGI, there is no favoritism—each has a central role and they both play off each other, working in tandem. In fact, color is used to make the cut appear stronger and vice-versa. "Colorist and hairdresser work together to give a shape that enhances the color, resulting in a powerful, overall visual element," the SHIFT Collection statement reads.
Another key to SHIFT is texture, which not only defines an individual's hair but also contributes to their overall individuality. As Thomas Osborn, VP of Education & Creative Director, TIGI Americas, explains, "Embracing natural textures is a massive part of what we're doing right now; a lot of our clients want to work with their own individual texture because that's what really creates the ultimate individuality."  This is the first time TIGI has shown these particular types of textures; "we truly have something for everyone," Osborn affirms.
Most importantly, he explains, the looks in SHIFT were never forced, but rather based around the model and their lifestyle. "We created every look in the collection for that individual," he continues. "Individuality will always be king in everything we do," he explains of SHIFT and the driving force behind TIGI. The collection truly takes this to the next level, for inspiration your clients will feel and a contagious excitement that will make you eager for your next appointment.
For more information on products and how-to's head to the Tigi 24/7 app, for inspiration wherever you are.
[Images courtesy of Emilie Branch]