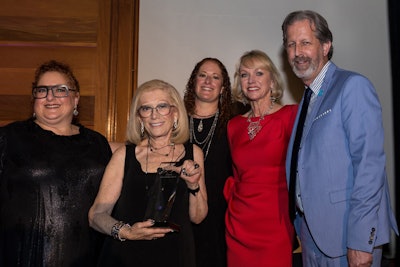 The Fifth Annual Beauty Changes Lives Experience, held on Sunday, March 26, during America's Beauty Show by Cosmetologists Chicago, paid tribute to Matrix co-founders Sydell and Arnold Miller—a couple who revolutionized the professional beauty industry.
We are incredibly honored to present the Legacy Award to the Millers," said Beauty Changes Lives Foundation President Lynelle Lynch. "Together, Sydell and Arnold exemplified artistry, entrepreneurial spirit and branding savvy, ultimately redefining professional products used in the salon environment. As the Matrix brand grew and evolved, Sydell and Arnold showed their commitment to education throughout a hairstylist's career journey by founding the Matrix Institute of Professional Development, ultimately enriching the careers of thousands of salon professionals." A marketing powerhouse and brand visionary, Sydell Miller continued to provide guidance and leadership to the organization following Arnold's passing in 1992. She has also served as Chairperson of the Board of Directors for SalonQuest, the company that produces Aquage and Biomega Haircare.
The Sydell and Arnold Miller Family Foundation took this celebration as an opportunity to announce their new scholarship programs. The Miller's gift of $1 million over a 10-year period will support new scholarships for cosmetology and esthetic students as well as licensed hairstylists, and expand the Miller family's longstanding philanthropic legacy.
The Miller's gift will fund eight Beauty Changes Lives scholarships yearly in four different categories that honor various segments of the industry, including:
The Arnold M. Miller "Findaway" Scholarship will celebrate students who demonstrate the "findaway" attitude and entrepreneurial spirit that defined Arnold Miller's career. Awarded annually, this scholarship will fund up to $25,000 toward tuition for one student enrolled at an American Association of Cosmetology Schools (AACS) member school.
The "Fashion Forward" Hairdressing Student Scholarship will be awarded to four students that exemplify the term "fashion forward" in their personal style and artistry. Each scholarship will fund 50% of tuition,up to $10,000 per student.The scholarships will be awarded annually to studentsenrolled in an AACSmember school.
The Sydell L. Miller "Total Image" Esthetic Scholarship honors Sydell Miller's prescient insight years ago that skincare, esthetic treatments, cosmetics and body care would become key growth drivers in the professional salon industry. One $15,000 scholarship will be awarded annually to an esthetic student enrolled in an AACS member school.
The NextGen Advanced Education Scholarship will be awarded to two licensed hairstylists working in their craft for two-to-five years. Winners will personify Sydell and Arnold Miller's philosophy of being a student throughout life's journey. Awarded annually, each scholarship will fund up to $5,000 toward an advanced educational program at a beauty school, advanced academy or manufacturer's academy program.
Applications for these scholarships will open from October 1, 2017 through January 31, 2018. The inaugural winners will be announced during Cosmetologists Chicago/Americas Beauty Show 2018. Winners will be selected by a judging panel comprised of prominent hairdressers, industry personalities and a member of the Miller family.
[Images courtesy of Beauty Changes Lives]