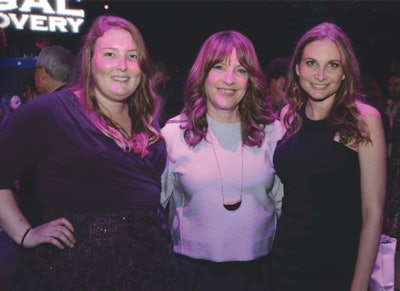 By providing quality wigs, Lolly's Locks is helping hundreds of cancer patients around the country feel like themselves again. —LINDA KOSSOFF
Thanks to one woman's indomitable spirit, hundreds more have been given the courage to confront their toughest challenge.
She might have seemed like any other devoted wife, mother and friend, but when Lolly Toll found herself facing down cancer, she proved herself to be so much more. A fighter and an optimist, Toll was quick to count her blessings, and that included the wigs she wore to replace her sparse locks while undergoing chemotherapy. Although Toll lost her personal battle with the disease in 2012, the courage she demonstrated in her final months inspired her loved ones to keep her name and spirit alive via a nonprofit organization they dubbed Lolly's Locks (@lollyslocks).
Based in Bethesda, Maryland, Lolly's Locks was founded with the specific goal of providing high-quality wigs to cancer patients in need. Why wigs, specifically? As the leaders of the organization, including cofounder, president and director Jaime Wright, explain: "In addition to being a daunting health foe, cancer is a formidable opponent, and high-quality wigs can cost thousands of dollars. Patients face mounting medical bills and copays, loss of wages, increased childcare costs and many other unanticipated expenses. Despite their health benefits, high-quality wigs are often relegated to the status of luxury." Too often, cancer patients are forced to rely on wig banks that stock refurbished, used or very cheap wigs that are ill-fitting and meant to be a temporary solution.
The health benefits of a beautiful, well-fitting wig may not be documented in lab tests, but they are as real as those of any other treatment. Looking good is intrinsically connected to feeling well, and is an important aspect of the healing process. Lolly's Locks works with wig vendors across the country to provide recipients with wigs that are customized to look like their pre-cancer hair, helping them maintain a sense of normalcy, dignity and privacy.
The only organization of its kind dedicated to providing customized wigs to adult cancer patients at no cost, Lolly's Locks achieves its mission via partnerships with wig manufacturers and retailers across the country. It also hosts an annual, glamorous Night of Fashion event (this year's takes place in May at The Watergate Hotel in Washington D.C.) that features a silent auction and a wig-centric fashion show.
In its first four years, the organization provided wigs to more than 475 women in 47 states. And it's just getting started. "Our goal is for Lolly's Locks to truly become a national nonprofit that helps hundreds, if not thousands, of cancer patients per year," says Wright. "We have been working hard to make that happen."